On average, cost of a budget safari with basic accommodation starts around $200 per person per day. A mid-range safari with lodging starts from $350 to $400 per person, per day. While a luxury safari will starts over $800 per person, per day. Keep in mind that this does not include international flights, visa fees, vaccinations, travel insurance, and other incidentals. Tanzania is one of Africa's more expensive safari destinations. By gaining insights into the safari cost in Tanzania, you can plan a memorable adventure that suits your preferences and budget.
The costings table here gives an instant overview of how much the average Tanzania safari will cost, depending on your travel style. Using this table allows you to quickly match your daily budget to the kind of Tanzania safari you can afford.
| Comfort Level | Private (per day) | Group (per day) |
| --- | --- | --- |
| Budget Camping | 250 $ | 225 $ |
| Budget Accommodation | 225 $ | 225 $ |
| Mid Range Accommodation | 375 $ | 325 $ |
| Luxury Accommodation | 550 $ | 500 $ |
| Luxury Plus Accommodation | 1.000 $ | n/a |
Rates in USD $
Excluding additional costs, such as international flights, tips and personal items
Safari cost in Tanzania
When planning a Tanzanian safari, it's important to consider the various factors that contribute to the total cost. These include the cost of renting a safari vehicle and hiring a private guide, as well as the entrance fees for national parks. While the first two factors are generally fixed prices, you may be able to save money on entrance fees by sharing the safari vehicle with other travelers.
Keep in mind that these fees can be quite expensive, with Ngorongoro Crater charging $300 per day for a safari jeep, plus an additional $78.50 per person. Accommodation costs can also vary greatly depending on the level of luxury and exclusivity you choose. Overall, while Tanzania is known as one of the world's best safari countries, it can also be an expensive destination, but careful planning and research can help you budget accordingly.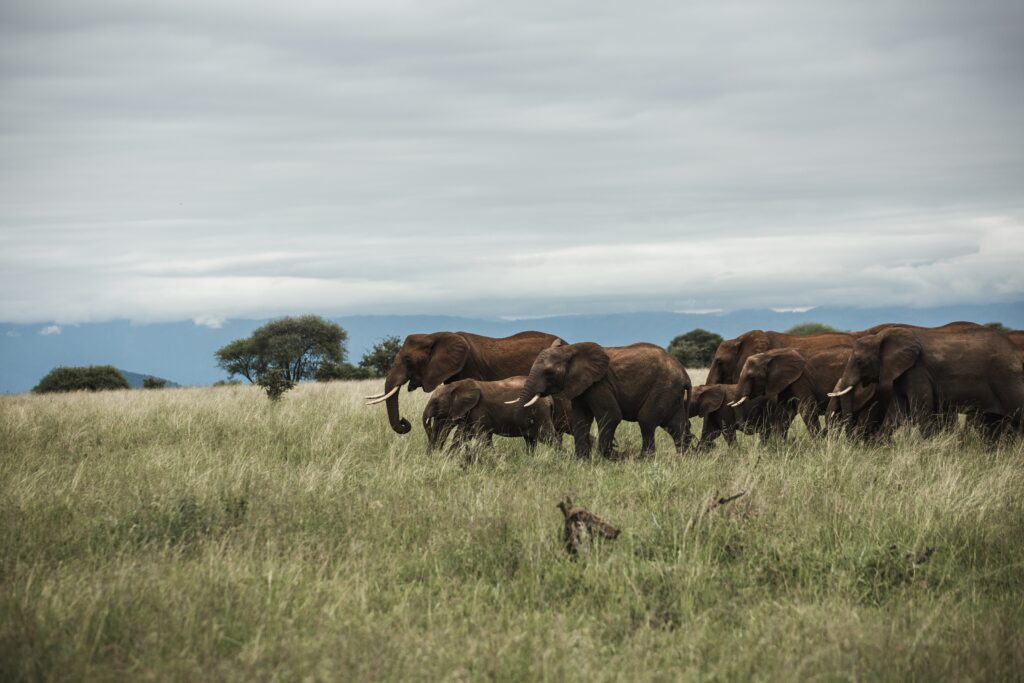 6 factors influencing the Safari cost in Tanzania
Whether you're a budget-conscious traveler or seeking a luxurious experience, it's important to consider various aspects that can affect the overall expenses. Let's explore 6 key factors that impact the cost of a Tanzania safari, allowing you to make informed decisions and tailor your adventure to suit your preferences.
1. Length of Stay: Making the Most of Your Time
The duration of your safari plays a significant role in determining the cost. Typically, full-package safaris offer slightly cheaper per-day costs for longer stays. Additionally, hiring a jeep and driver for an extended period tends to be more cost-effective. It's worth noting that park entry fees are charged on a 24-hour basis and do not decrease with a longer stay. However, keep an eye out for special offers from safari camps and lodges that may provide free nights after a certain number of days.
2. Level of Comfort: Finding the Perfect Accommodation
The level of comfort you desire greatly influences the overall expenses. Opting for basic camping and preparing your own meals can significantly reduce costs compared to luxurious four-star accommodations. Surprisingly, even basic lodging options in Tanzania can sometimes exceed the prices of mid-range accommodations in popular European cities. Thus, carefully consider your comfort requirements and budget when selecting accommodation.
3. Safari cost Group Size: Sharing the Adventure
The size of your group directly affects the cost per person. On fully organized safaris, having a larger group can significantly decrease expenses. However, it's important to strike a balance, as overcrowding may compromise the quality of your safari experience. Private safaris allow you to choose your travel companions, fostering a more intimate and enjoyable journey.
4. Timing: Highs and Lows of the Safari Seasons
The timing of your Tanzania safari plays a crucial role in cost fluctuations. High season, spanning from June to September and mid-December to mid-January, attracts higher prices due to increased demand. The late February period, coinciding with the wildebeest birthing season in the southern Serengeti, is also a popular but expensive time for safaris. On the other hand, low season from March to May offers more affordable rates, with prices often up to 50% lower than high season. The months between high and low seasons, such as October to mid-December and late May to mid-June, strike a balance between cost, weather, and overall value.
5. Which parks you want to go to
Your choice of safari destinations within Tanzania can significantly impact the cost. Popular attractions like the Serengeti, Ngorongoro Crater, and Nyerere National Park often come with higher price tags. However, exploring lesser-known parks like Katavi, Saadani, or Arusha National Parks allows you to witness an abundance of wildlife at a more affordable cost. These hidden gems provide a win-win situation, offering diverse wildlife encounters and budget-friendly entry fees and accommodations.
6. Add-On Activities
Adding special activities to your safari, such as taking a hot-air balloon ride, can elevate your experience but also increase expenses. A hot-air balloon ride across the Serengeti offers breathtaking views but comes with a starting price of 600 $ per person.
Safari cost in Tanzania: include/exclude
A budget safari in Tanzania includes meals, transport, accommodation, game drives, park fees, an english professional driver/guide, all transportation and bottled drinking water. It will not include airport transfers, accommodation before and after your safari, local flights and any special meals and drinks that are not on the itinerary.
A mid-range safari would include airport transfers and may include some flights within Tanzania. Special meals and drinks might also be included on some days, depending on the accommodation. And safari vehicles would generally be less-crowded than on a budget safari.
Safari cost in Zanzibar
Compared to mainland safari accommodation, Zanzibar offers much more affordable options. You can stay at our premium Class accommodation on this beautiful tropical island for only $60 per person per night. The lodge we have selected is located on the beach in one of Zanzibar's most picturesque villages.
In conclusion, a Tanzania safari's cost is influenced by numerous factors, providing travelers with a range of options to suit their preferences and budgets. By carefully considering the length of stay, level of comfort, location of accommodation, group size, timing, transportation, destination choice, add-on activities, extensions, and specialized interests, you can plan a safari that aligns with your desires while optimizing your budget. Embrace the adventure, explore the diverse landscapes, and create unforgettable memories in the heart of Tanzania's wildlife-rich havens.