The Ultimate Guide to Climb Mount Kilimanjaro
The journey awaits, are you ready to climb Mount Kilimanjaro?
If you are here on our page, you might be wondering how to climb Mount Kilimanjaro. Standing tall at an impressive elevation of 5,895 meters (19,341 feet), Mount Kilimanjaro proudly holds the title of Africa's highest mountain and claims its place as the tallest freestanding mountain on Earth. As one of the renowned Seven Summits, it has captured the imagination of adventurers and nature enthusiasts and soon yours.
This majestic peak with a crown of snow, is a dormant volcano and resides within Tanzania's Kilimanjaro National Park. Climbing mount Kilimanjaro offers a remarkable journey through a wide variety of ecological zones, including rainforest, bushland, alpine desert and arctic. 
If you never climbed Mount Kilimanjaro before, we're here to simplify the process of planning your next climb, answering all your questions regarding the best routes to take, what to expect on the summit night climb and how to deal with sickness altitude. 
WHERE IS MOUNT KILIMANJARO?
Mount Kilimanjaro is located in northeastern Tanzania in East Africa. It is the highest point on the African continent, near the border of Tanzania and Kenya.
HOW DO I GET TO MOUNT KILIMANJARO?
To get to Kilimanjaro, you need to fly into Tanzania's Kilimanjaro International Airport (JRO). If you are traveling from Paris or Frankfurt, there is a connecting flight to Kilimanjaro International Airport. Common stops include major African hub airports such as Nairobi, Addis Ababa and Johannesburg. There are several direct flights from Amsterdam and Zurich.

There are several ways to reach the Kilimanjaro starting point from the airport. Most treks start from Arusha or Moshi town. It takes about 1 hour drive to Moshi and 1.5 hours drive to Arusha. 
WHEN IS THE BEST TIME TO CLIMB MOUNT KILIMANJARO?
Let's take a look at Kilimanjaro seasons and climbing seasons.

Tanzania has two different rainy seasons. A short one from November to mid-December and a long one from March to May. At this time of year, the trails of Kilimanjaro can be waterlogged and muddy. However, if the calmness of your climb is your main concern and not the monsoon weather, this time of year when there are fewer climbers may be better. However, be aware that it can get quite wet.

July to October is peak season in the mountains, especially since it coincides with summer vacations in Europe. This period is characterized by drier weather and relatively cool temperatures compared to the months around Christmas. However, please be careful of the cold at night. Mid-May to June is the best time to climb if you want similar weather and few climbing companions. It's just before the holiday season, but still during peak climbing season.

From December to February, temperatures are warm and visibility is good. However, be aware that the short rainy season he can last until December and can lead to wet weather. These months also overlap with the Christmas holidays, which can increase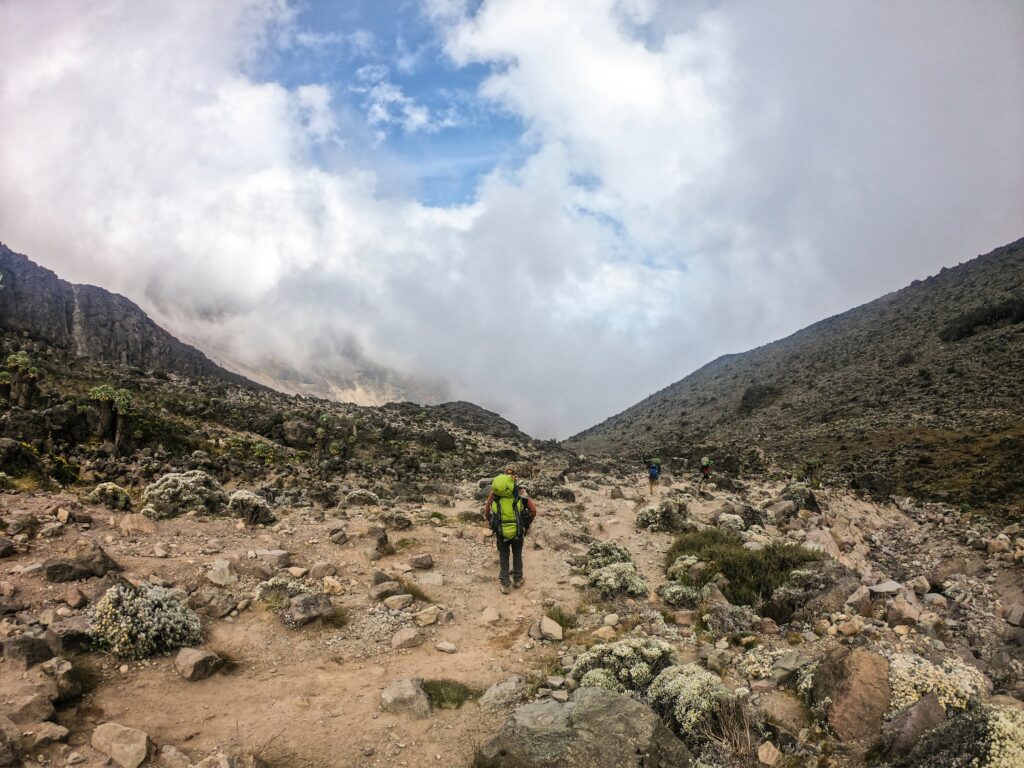 HOW LONG DOES IT TAKE TO CLIMB MOUNT KILIMANJARO?
Ascending and descending Mount Kilimanjaro, Africa's tallest peak, typically takes between five to nine days. The duration of the trek impacts your chances of successfully reaching the summit and completing the journey. The key factors here are acclimatization and fatigue management. When you spend more days on the mountain, your body has more time to adjust to the high altitude. This process, known as acclimatization, helps reduce the risk of altitude sickness. By gradually adapting to the decreasing oxygen levels as you climb, you give yourself a better chance of reaching the summit without experiencing symptoms like dizziness, nausea, or headaches.
IS IT DIFFICULT TO CLIMB MOUNT KILIMANJARO?
How hard is to climb mount Kilimanjaro? Climbing Mount Kilimanjaro is no walk in the park. It's a formidable mountain that poses significant challenges. In fact, over 50% of climbers experience mountain sickness, highlighting the extreme altitude nature of this trek. Standing at a breathtaking height of 19,341 feet or 5,895 meters, Mount Kilimanjaro demands thorough preparation and training before taking on the adventure. So, lace up your boots, get ready to push your limits, and embark on the incredible journey of conquering Kili!
HOW MUCH DOES IT COST TO CLIMB MOUNT KILIMANJARO?
Without a doubt, embarking on a journey to climb mount Kilimanjaro can be financially expensive. The cost of climbing Kilimanjaro typically falls within the range of $1500 to $4500. The specific amount depends on factors such as the duration of your chosen route and the tour operator you select. We strongly advise against opting for the cheapest option available when searching for trekking guides. Remember, you are paying for expertise, and it is crucial to prioritize a proper and well-executed experience.
HOW TO PREPARE FOR CLIMBING KILIMANJARO
We strongly recommend to prepare yourself for your upcoming expedition. It's crucial to create and follow a well-rounded training program that focuses on improving your fitness, strength, and endurance. If you live in a city or a country like Switzerland consider climbing smaller mountains to gain experience and get use to the altitude.
If you don't have any mountain near by, you can hit your local gym facilities. Incorporate activities like using the stairmaster, which will help boost your endurance and strength. 
HOW TO AVOID ALTITUDE SICKNESS ON KILIMANJARO
Altitude sickness, also known as acute mountain sickness (AMS), is a common condition that affects climbers at high altitudes, including those climbing Mount Kilimanjaro. It is caused by a lack of oxygen in the air, which leads to a decrease in the amount of oxygen in the bloodstream. In this article, we will discuss the symptoms, prevention, and treatment of altitude sickness on Kilimanjaro.
Symptoms
Prevention
Treatment
Symptoms
The symptoms of altitude sickness can range from mild to severe and usually appear within the first 24 to 48 hours of climbing. Common symptoms include:
Headache
Nausea and vomiting
Fatigue and weakness
Dizziness and lightheadedness
Loss of appetite
Shortness of breath
Insomnia
Swelling of the face, hands, and feet
Confusion and disorientation
Prevention
Treatment
WHAT CLOTHING AND EQUIPMENT DO YOU NEED?
Preparation is key, and having the right gear to climb mount Kilimanjaro is essential. Porters will carry the food, cooking materials and your tents. We have plenty of spare equipment that you can rent, do not hesitated to contact us. 
1. Clothing
2. Gear
3. Sleeping gear
4. Various items
1. Clothing
Waterproof, breathable rain jacket and pants
Insulated jacket or down vest
Long-sleeved shirt and pants (for sun protection)
Thermal base layers (top and bottom)
Fleece jacket or sweater
Hiking pants or shorts
Hiking boots and extra socks
Sun hat and warm hat
Gloves or mittens
2. Gear
3. Sleeping gear
4. Various items
WHAT'S THE BEST KILIMANJARO ROUTE?
There are several routes to choose from, each offering a unique experience and level of difficulty, it can be challenging to decide which one to take. Bellow, we will compare the most popular Kilimanjaro climbing routes to help you make an informed decision.
1. Marangu route
2. Machame route
3. Lemosho Route
4. Rongai Route
5. Umbwe Route
1. Marangu route
Also known as the "Coca-Cola" route, the Marangu route is the most popular and the oldest route up Kilimanjaro. It is the only route with permanent huts, which provide basic accommodation for climbers. The Marangu route is the easiest and shortest route, but also the least scenic. It is recommended for inexperienced climbers who want to climb Kilimanjaro in a short time.
2. Machame route
3. Lemosho Route
4. Rongai Route
5. Umbwe Route
THE FINAL PUSH TO THE TOP OF KILIMANJARO
Summit day on Mount Kilimanjaro is the most challenging and exciting day of the climb. It's the day when you make the final push to reach the summit of the mountain. Here's what you can expect on summit day:
Early start: You will typically start summit day in the early hours of the morning, around midnight or 1 a.m. This is to ensure that you reach the summit in time for sunrise.

Slow pace: The ascent to the summit will be slow and steady to help you acclimatize to the altitude. The pace will be slower than on previous days of the climb.

Cold temperatures: Temperatures can drop below freezing at night, so make sure to dress in warm layers and bring appropriate gear to protect you from the cold.

Headlamp required: You will need a headlamp to navigate the trail in the dark. Make sure to bring extra batteries.

Scree and rock terrain: The trail will be steep and rocky with scree, which can be challenging to navigate. Trekking poles can be helpful to maintain balance and provide support.

High altitude: The altitude can make it difficult to breathe, and you may experience symptoms of altitude sickness. Take breaks as needed and communicate any symptoms to your guide.

Stellar views: As you climb higher, the views of the stars and the sunrise can be spectacular.

Summit achievement: Reaching the summit of Mount Kilimanjaro is an incredible achievement. Take time to celebrate and enjoy the moment before starting the descent.

Return to camp: After reaching the summit, you will start the descent to base camp. The descent can be challenging, so take your time and be careful on the steep and rocky terrain.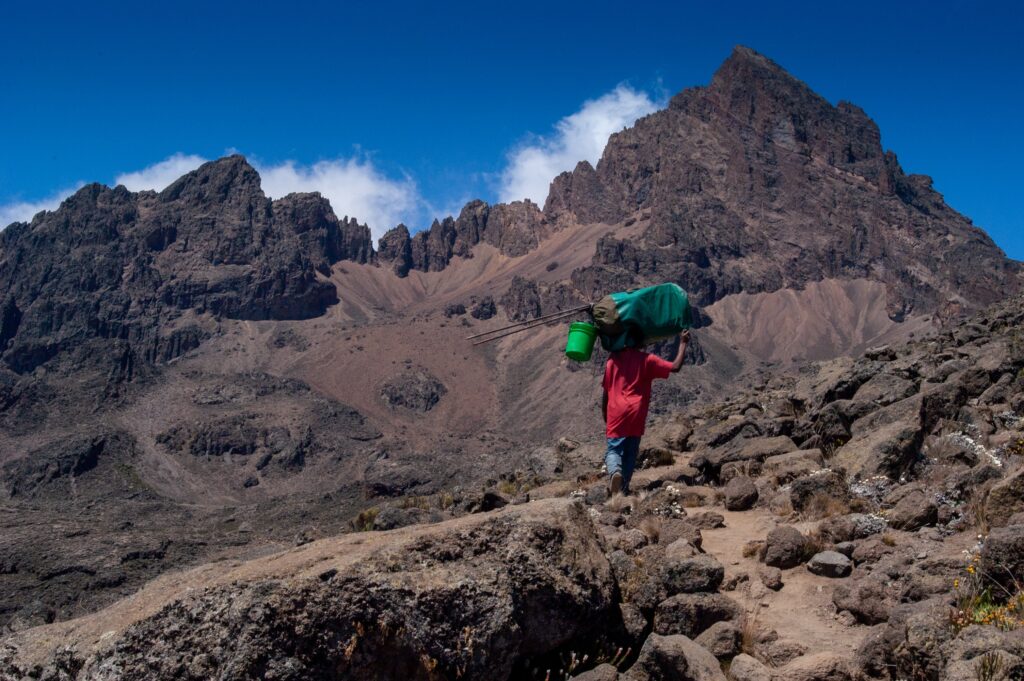 When climbing Kilimanjaro, porters play an important role in ensuring a successful and safe climb. They carry equipment, set up camps, and provide valuable support to climbers. Porters are often neglected and underpaid, even though they play an important role. Here's what you need to know about the unsung hero when climbing Kilimanjaro.


Porter working conditions:
Porters carry heavy loads, often exceeding the recommended weight limit of 20 kg. They may work long hours in difficult conditions, such as extreme cold or rain. Many porters do not have proper equipment or clothing and are at risk of altitude sickness and hypothermia.

Importance of Ethical Attitude:
To ensure that porters are treated fairly, it is important to choose a travel company that practices ethical porter service. This means paying porters fair wages, providing them with proper equipment and clothing, and adhering to porter cargo weight limits. By choosing an ethical travel company, you can support your community and ensure that your porters are treated with dignity and respect.

How to support your carrier:
You can support your porters by tipping generously at the end of the climb. The recommended amount is $10-15 per day per porter, depending on experience level. You can also donate used equipment and clothing to porters or choose a tour company that supports local porter communities.
Join the hundreds of climbers who have stood on the Mount Kilimanjaro summit