This 6 day Tanzania luxury safari tour will take you on a breathtaking adventure to the four best northern Tanzania safari parks and reserves. You will begin your adventure in Tarangire National Park, where you will encounter a large population of elephants and baobab trees. Then you will continue the tour to the vast Serengeti plains, which are home to the Great Wildebeest Migration and spot the "Big Five". After that, you will be heading to the Ngorongoro conservation area, where you'll visit the Ngorongoro crater, a natural wildlife wonder of Tanzania. Finally, you will end your trip at Lake Manyara National Park, famous for its tree-climbing lions, birdlife and colorful flocks of flamingos. During your safari you will enjoy top-notch service, amenities, and breathtaking views. Relax in spacious rooms, savor gourmet meals, and unwind in the beauty of nature.
Safari Highlights: 6 Day Tanzania Luxury Safari Tour
Experience the awe-inspiring Serengeti Wildebeest Migration.
Spot Tanzania's big cats and the famous Big Five in their natural habitat.
Enjoy an authentic interaction with the local Maasai tribe as you drive across the Masai steppe.
Traverse the Great East African Rift Valley and take in the stunning landscapes along the way.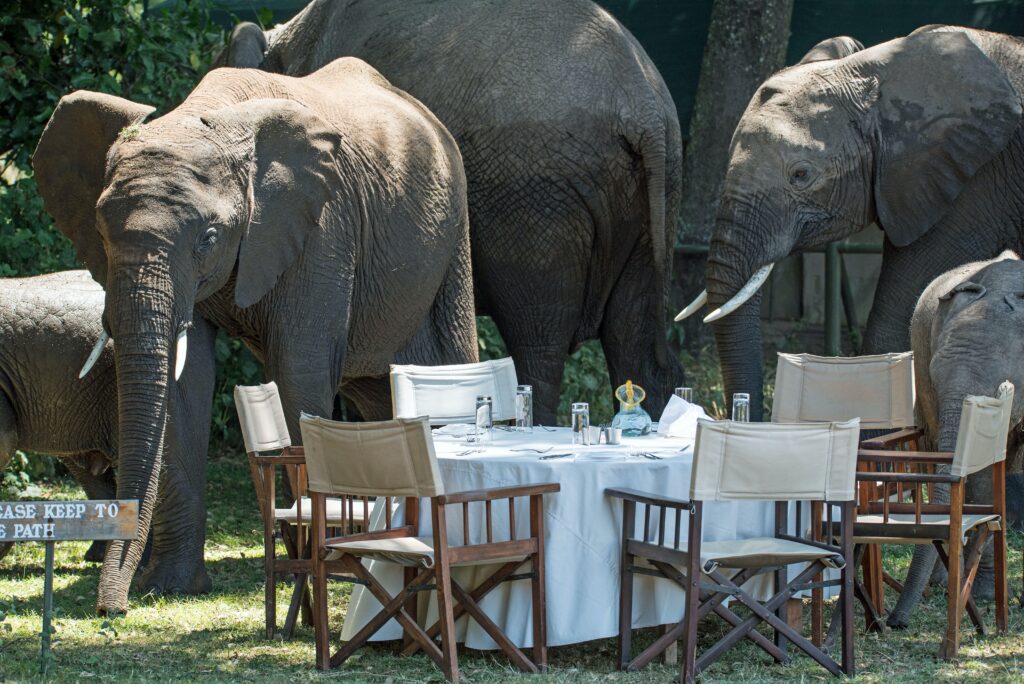 Throughout your safari, you will be enjoying the wildlife areas which will leave you breathless with wonder & excitement. And stay in luxrious lodges and camps with top amenities with all meals included.
Transportation & wildlife game viewing is in a well maintained 4WD safari Land Cruiser with photographic roof thatch, reference books for fauna & flora, charging system & a min fried with enough mineral water. Window seat for everyone!
Destination: Northern Tanzania safari circuit
Location: Tarangire, Serengeti, Ngorongoro Crater & Lake Manyara
Best Time to Travel: Yearly around
Physicality: Comfort & Enjoyable
Outlined Itinerary: 6 Day Tanzania Luxury Safari
Day 0: Arrival Day & Transfer to Kibo palace hotel in Arusha. Dinner & breakfast included.
Day 1: Depart from Arusha to Tarangire National Park. Spend the day game viewing and later overnight at Heart and soul lodge. All meals included.
Day 2: Depart from Tarangire to Serengeti National Park. Enjoy a game drive on the way and overnight at Kubukubu Tented Lodge. All meals included.
Day 3: Full day game drive in Serengeti National Park. Overnight at Kubkubu Tented Lodge. All meals included.
Day 4: Depart from Serengeti to Ngorongoro Conservation Area. Enjoy a game drive on the way and overnight at Ngorongoro Serena Lodge. All meals included.
Day 5: Full day game drive in Ngorongoro Crater. Overnight at Lake Manyara Serena Lodge. All meals included.
Day 6: Depart from Ngorongoro to Lake Manyara and then to Arusha, followed by transfer to the airport.
Private 6 day Tanzania luxury safari package

All park fees & concession fees

well experience English speaking safari driver guide

Transport in well maintained 4WD Safari Land Cruiser

All accommodation & meals as per itinerary

Enough mineral water & Soft drinks during game drive

01 x HB at Mount Meru Hotel or similar in Arusha

Tanzania Government value added tax VAT
International flights

Any domestic connection flights on arrival or departure

Drinks and beverages in lodges

Travel insurance if applicable

All items of a personal nature

Visa fee (50 US$ /100 US$ for American or Irish Passport holders

Gratitude/Tips for safari guide and lodge staff (please tip separately)
Day 1: Arrive in Tanzania
Upon arrival at Kilimanjaro International Airport, you will be picked up and transferred to Arusha/Moshi town, at your arranged hotel. Later on, your driver guide will provide a detailed briefing on your upcoming safaris, before leaving you to enjoy the lodge's facilities.
Day 2: Arusha – Tarangire National Park
After breakfast at your hotel, your driver will pick you up and you will be heading to Tarangire National Park for a game drive. The drive will take you along the Masai steppe and across many villages on the way to the park gate. Tarangire is known for its large elephant population and some big cats, including lions and leopards. You can also expect to spot herds of buffalo, giraffe, wildebeest, zebra, warthog, and the three rare animal species of fringed-eared oryx, great kudu, and the ash-staling. We will have lunch then we continue with the game drive until late evening, then drive you to the accommodation for overnight.
Day 3: Tarangire – Serengeti National Park
After breakfast, you will depart for the Serengeti National Park, passing through the beautiful high lying farmland of Karatu and across the Ngorongoro Conservation Area. You will stop at the Ngorongoro gate for registration before driving up to the Crater viewpoint, where you will have a brief stop to enjoy the great views of the crater floor from the rim. You will then drive around the crater rim and down to the vast plains of the Serengeti. At the Naabi Hills gate, you will stop for registration during lunchtime before proceeding to the kopjes (rocky outcroppings) where you can have your packed lunch before driving to the central Serengeti area called Seronera for a sunset game drive.
Big cats and other predators can always be seen wandering in the endless rolling plains of the mighty Serengeti National Park, and you may expect to spot lions, cheetahs, hyenas, leopards, and jackals. Late in the afternoon, you will drive to your accommodation for dinner and overnight stay.
Day 4: Full Day Game Drive in Serengeti
After breakfast, you have a full day to explore the magnificent Serengeti National Park. You will visit different areas of the park to spot more wildlife or simply drive around the central Seronera area. With packed lunch boxes, you can enjoy the whole day in the park, spotting herds of elephants, giraffes, buffalos, zebras, and wildebeests. Predators such as cheetahs, lions, leopards, hyenas, and jackals may also be seen roaming in the vast Serengeti plains.
In the evening, we drive back to your accommodation for dinner and overnight stay.
Day 05: Serengeti – Ngorongoro Conservation Area
On this day, you will go for a morning game drive in Serengeti before returning to the lodge for an early hot lunch. Afterward, you will start your journey towards Ngorongoro Conservation Area for  overnight. On the way you can experience the Maasai traditional life. Upon arrival, you will check-in at your Lodge and enjoy a sunset watch before dinner and overnight stay.
Day 6: Full Day Ngorongoro Crater Tour
On this day, after an early breakfast, you will descend over 600 meters into the Ngorongoro Crater for a wonderful game drive. The Ngorongoro Crater was formed about 3 million years ago due to some internal forces under the Earth's crust. The eruption left a caldera about 12 miles wide with walls over 600 meters high. There is enough drinking water and fodder at the crater floor to support a large number of wildlife, including herds of buffalo, wildebeest, zebra, eland, warthog, African elephant, and the rare black rhinos.
Another big drawcard in this picturesque caldera is the dense population of predators, including lion, hyenas, jackals, cheetahs, and the ever-elusive leopard that sometimes needs a trained eye to spot. You will also visit Lake Magadi, a larger but shallow alkaline lake at the southeast corner of the crater, frequently visited by hippos and many aquatic birds. Late afternoon, you will drive out for dinner and overnight at Lake Manyara.
Day 7: Ngorongoro – Lake Manyara Park – Arusha – ARK or JRO
After breakfast at your lodge, you will depart for Lake Manyara National Park. The lake is located at a dramatic location and is a small but beautiful park in northern Tanzania, endowed with lots of underground water streams that flow into the lake. Tree-climbing lions and larger flocks of flamingos are among the highlights of this park.
The varied and overlapping habitats in this park attract a larger number of animals, which include African elephants, buffalo, wildebeest, zebras, giraffes, warthogs, and others. Apart from tree-climbing lions, you can also spot leopards, cheetahs, hyenas, and jackals.
In the afternoon, you will drive out and head back to Arusha airport ARK to catch your flight to Zanzibar Island or to Kilimanjaro airport JRO to catch your flight back home.
7
6 day Luxury safari
Minimum booking:
3 days
Maximum booking:
15 days
General price:
$

3850 / day
8
6 day Luxury safari
Minimum booking:
3 days
Maximum booking:
15 days
General price:
$

3850 / day
9
6 day Luxury safari
Minimum booking:
3 days
Maximum booking:
15 days
General price:
$

3850 / day
10
6 day Luxury safari
Minimum booking:
3 days
Maximum booking:
15 days
General price:
$

3850 / day
11
6 day Luxury safari
Minimum booking:
3 days
Maximum booking:
15 days
General price:
$

3850 / day
12
6 day Luxury safari
Minimum booking:
3 days
Maximum booking:
15 days
General price:
$

3850 / day
13
6 day Luxury safari
Minimum booking:
3 days
Maximum booking:
15 days
General price:
$

3850 / day
14
6 day Luxury safari
Minimum booking:
3 days
Maximum booking:
15 days
General price:
$

3850 / day
15
6 day Luxury safari
Minimum booking:
3 days
Maximum booking:
15 days
General price:
$

3850 / day
16
6 day Luxury safari
Minimum booking:
3 days
Maximum booking:
15 days
General price:
$

3850 / day
17
6 day Luxury safari
Minimum booking:
3 days
Maximum booking:
15 days
General price:
$

3850 / day
18
6 day Luxury safari
Minimum booking:
3 days
Maximum booking:
15 days
General price:
$

3850 / day
19
6 day Luxury safari
Minimum booking:
3 days
Maximum booking:
15 days
General price:
$

3850 / day
20
6 day Luxury safari
Minimum booking:
3 days
Maximum booking:
15 days
General price:
$

3850 / day
21
6 day Luxury safari
Minimum booking:
3 days
Maximum booking:
15 days
General price:
$

3850 / day
22
6 day Luxury safari
Minimum booking:
3 days
Maximum booking:
15 days
General price:
$

3850 / day
23
6 day Luxury safari
Minimum booking:
3 days
Maximum booking:
15 days
General price:
$

3850 / day
24
6 day Luxury safari
Minimum booking:
3 days
Maximum booking:
15 days
General price:
$

3850 / day
25
6 day Luxury safari
Minimum booking:
3 days
Maximum booking:
15 days
General price:
$

3850 / day
26
6 day Luxury safari
Minimum booking:
3 days
Maximum booking:
15 days
General price:
$

3850 / day
27
6 day Luxury safari
Minimum booking:
3 days
Maximum booking:
15 days
General price:
$

3850 / day
28
6 day Luxury safari
Minimum booking:
3 days
Maximum booking:
15 days
General price:
$

3850 / day
29
6 day Luxury safari
Minimum booking:
3 days
Maximum booking:
15 days
General price:
$

3850 / day
30
6 day Luxury safari
Minimum booking:
3 days
Maximum booking:
15 days
General price:
$

3850 / day
1
6 day Luxury safari
Minimum booking:
3 days
Maximum booking:
15 days
General price:
$

3850 / day
2
6 day Luxury safari
Minimum booking:
3 days
Maximum booking:
15 days
General price:
$

3850 / day
26
6 day Luxury safari
Minimum booking:
3 days
Maximum booking:
15 days
General price:
$

3850 / day
27
6 day Luxury safari
Minimum booking:
3 days
Maximum booking:
15 days
General price:
$

3850 / day
28
6 day Luxury safari
Minimum booking:
3 days
Maximum booking:
15 days
General price:
$

3850 / day
29
6 day Luxury safari
Minimum booking:
3 days
Maximum booking:
15 days
General price:
$

3850 / day
30
6 day Luxury safari
Minimum booking:
3 days
Maximum booking:
15 days
General price:
$

3850 / day
1
6 day Luxury safari
Minimum booking:
3 days
Maximum booking:
15 days
General price:
$

3850 / day
2
6 day Luxury safari
Minimum booking:
3 days
Maximum booking:
15 days
General price:
$

3850 / day
3
6 day Luxury safari
Minimum booking:
3 days
Maximum booking:
15 days
General price:
$

3850 / day
4
6 day Luxury safari
Minimum booking:
3 days
Maximum booking:
15 days
General price:
$

3850 / day
5
6 day Luxury safari
Minimum booking:
3 days
Maximum booking:
15 days
General price:
$

3850 / day
6
6 day Luxury safari
Minimum booking:
3 days
Maximum booking:
15 days
General price:
$

3850 / day
7
6 day Luxury safari
Minimum booking:
3 days
Maximum booking:
15 days
General price:
$

3850 / day
8
6 day Luxury safari
Minimum booking:
3 days
Maximum booking:
15 days
General price:
$

3850 / day
9
6 day Luxury safari
Minimum booking:
3 days
Maximum booking:
15 days
General price:
$

3850 / day
10
6 day Luxury safari
Minimum booking:
3 days
Maximum booking:
15 days
General price:
$

3850 / day
11
6 day Luxury safari
Minimum booking:
3 days
Maximum booking:
15 days
General price:
$

3850 / day
12
6 day Luxury safari
Minimum booking:
3 days
Maximum booking:
15 days
General price:
$

3850 / day
13
6 day Luxury safari
Minimum booking:
3 days
Maximum booking:
15 days
General price:
$

3850 / day
14
6 day Luxury safari
Minimum booking:
3 days
Maximum booking:
15 days
General price:
$

3850 / day
15
6 day Luxury safari
Minimum booking:
3 days
Maximum booking:
15 days
General price:
$

3850 / day
16
6 day Luxury safari
Minimum booking:
3 days
Maximum booking:
15 days
General price:
$

3850 / day
17
6 day Luxury safari
Minimum booking:
3 days
Maximum booking:
15 days
General price:
$

3850 / day
18
6 day Luxury safari
Minimum booking:
3 days
Maximum booking:
15 days
General price:
$

3850 / day
19
6 day Luxury safari
Minimum booking:
3 days
Maximum booking:
15 days
General price:
$

3850 / day
20
6 day Luxury safari
Minimum booking:
3 days
Maximum booking:
15 days
General price:
$

3850 / day
21
6 day Luxury safari
Minimum booking:
3 days
Maximum booking:
15 days
General price:
$

3850 / day
22
6 day Luxury safari
Minimum booking:
3 days
Maximum booking:
15 days
General price:
$

3850 / day
23
6 day Luxury safari
Minimum booking:
3 days
Maximum booking:
15 days
General price:
$

3850 / day
24
6 day Luxury safari
Minimum booking:
3 days
Maximum booking:
15 days
General price:
$

3850 / day
25
6 day Luxury safari
Minimum booking:
3 days
Maximum booking:
15 days
General price:
$

3850 / day
26
6 day Luxury safari
Minimum booking:
3 days
Maximum booking:
15 days
General price:
$

3850 / day
27
6 day Luxury safari
Minimum booking:
3 days
Maximum booking:
15 days
General price:
$

3850 / day
28
6 day Luxury safari
Minimum booking:
3 days
Maximum booking:
15 days
General price:
$

3850 / day
29
6 day Luxury safari
Minimum booking:
3 days
Maximum booking:
15 days
General price:
$

3850 / day
30
6 day Luxury safari
Minimum booking:
3 days
Maximum booking:
15 days
General price:
$

3850 / day
31
6 day Luxury safari
Minimum booking:
3 days
Maximum booking:
15 days
General price:
$

3850 / day
1
6 day Luxury safari
Minimum booking:
3 days
Maximum booking:
15 days
General price:
$

3850 / day
2
6 day Luxury safari
Minimum booking:
3 days
Maximum booking:
15 days
General price:
$

3850 / day
3
6 day Luxury safari
Minimum booking:
3 days
Maximum booking:
15 days
General price:
$

3850 / day
4
6 day Luxury safari
Minimum booking:
3 days
Maximum booking:
15 days
General price:
$

3850 / day
5
6 day Luxury safari
Minimum booking:
3 days
Maximum booking:
15 days
General price:
$

3850 / day
6
6 day Luxury safari
Minimum booking:
3 days
Maximum booking:
15 days
General price:
$

3850 / day
31
6 day Luxury safari
Minimum booking:
3 days
Maximum booking:
15 days
General price:
$

3850 / day
1
6 day Luxury safari
Minimum booking:
3 days
Maximum booking:
15 days
General price:
$

3850 / day
2
6 day Luxury safari
Minimum booking:
3 days
Maximum booking:
15 days
General price:
$

3850 / day
3
6 day Luxury safari
Minimum booking:
3 days
Maximum booking:
15 days
General price:
$

3850 / day
4
6 day Luxury safari
Minimum booking:
3 days
Maximum booking:
15 days
General price:
$

3850 / day
5
6 day Luxury safari
Minimum booking:
3 days
Maximum booking:
15 days
General price:
$

3850 / day
6
6 day Luxury safari
Minimum booking:
3 days
Maximum booking:
15 days
General price:
$

3850 / day
7
6 day Luxury safari
Minimum booking:
3 days
Maximum booking:
15 days
General price:
$

3850 / day
8
6 day Luxury safari
Minimum booking:
3 days
Maximum booking:
15 days
General price:
$

3850 / day
9
6 day Luxury safari
Minimum booking:
3 days
Maximum booking:
15 days
General price:
$

3850 / day
10
6 day Luxury safari
Minimum booking:
3 days
Maximum booking:
15 days
General price:
$

3850 / day
11
6 day Luxury safari
Minimum booking:
3 days
Maximum booking:
15 days
General price:
$

3850 / day
12
6 day Luxury safari
Minimum booking:
3 days
Maximum booking:
15 days
General price:
$

3850 / day
13
6 day Luxury safari
Minimum booking:
3 days
Maximum booking:
15 days
General price:
$

3850 / day
14
6 day Luxury safari
Minimum booking:
3 days
Maximum booking:
15 days
General price:
$

3850 / day
15
6 day Luxury safari
Minimum booking:
3 days
Maximum booking:
15 days
General price:
$

3850 / day
16
6 day Luxury safari
Minimum booking:
3 days
Maximum booking:
15 days
General price:
$

3850 / day
17
6 day Luxury safari
Minimum booking:
3 days
Maximum booking:
15 days
General price:
$

3850 / day
18
6 day Luxury safari
Minimum booking:
3 days
Maximum booking:
15 days
General price:
$

3850 / day
19
6 day Luxury safari
Minimum booking:
3 days
Maximum booking:
15 days
General price:
$

3850 / day
20
6 day Luxury safari
Minimum booking:
3 days
Maximum booking:
15 days
General price:
$

3850 / day
21
6 day Luxury safari
Minimum booking:
3 days
Maximum booking:
15 days
General price:
$

3850 / day
22
6 day Luxury safari
Minimum booking:
3 days
Maximum booking:
15 days
General price:
$

3850 / day
23
6 day Luxury safari
Minimum booking:
3 days
Maximum booking:
15 days
General price:
$

3850 / day
24
6 day Luxury safari
Minimum booking:
3 days
Maximum booking:
15 days
General price:
$

3850 / day
25
6 day Luxury safari
Minimum booking:
3 days
Maximum booking:
15 days
General price:
$

3850 / day
26
6 day Luxury safari
Minimum booking:
3 days
Maximum booking:
15 days
General price:
$

3850 / day
27
6 day Luxury safari
Minimum booking:
3 days
Maximum booking:
15 days
General price:
$

3850 / day
28
6 day Luxury safari
Minimum booking:
3 days
Maximum booking:
15 days
General price:
$

3850 / day
29
6 day Luxury safari
Minimum booking:
3 days
Maximum booking:
15 days
General price:
$

3850 / day
30
6 day Luxury safari
Minimum booking:
3 days
Maximum booking:
15 days
General price:
$

3850 / day
31
6 day Luxury safari
Minimum booking:
3 days
Maximum booking:
15 days
General price:
$

3850 / day
1
6 day Luxury safari
Minimum booking:
3 days
Maximum booking:
15 days
General price:
$

3850 / day
2
6 day Luxury safari
Minimum booking:
3 days
Maximum booking:
15 days
General price:
$

3850 / day
3
6 day Luxury safari
Minimum booking:
3 days
Maximum booking:
15 days
General price:
$

3850 / day
28
6 day Luxury safari
Minimum booking:
3 days
Maximum booking:
15 days
General price:
$

3850 / day
29
6 day Luxury safari
Minimum booking:
3 days
Maximum booking:
15 days
General price:
$

3850 / day
30
6 day Luxury safari
Minimum booking:
3 days
Maximum booking:
15 days
General price:
$

3850 / day
31
6 day Luxury safari
Minimum booking:
3 days
Maximum booking:
15 days
General price:
$

3850 / day
1
6 day Luxury safari
Minimum booking:
3 days
Maximum booking:
15 days
General price:
$

3850 / day
2
6 day Luxury safari
Minimum booking:
3 days
Maximum booking:
15 days
General price:
$

3850 / day
3
6 day Luxury safari
Minimum booking:
3 days
Maximum booking:
15 days
General price:
$

3850 / day
4
6 day Luxury safari
Minimum booking:
3 days
Maximum booking:
15 days
General price:
$

3850 / day
5
6 day Luxury safari
Minimum booking:
3 days
Maximum booking:
15 days
General price:
$

3850 / day
6
6 day Luxury safari
Minimum booking:
3 days
Maximum booking:
15 days
General price:
$

3850 / day
7
6 day Luxury safari
Minimum booking:
3 days
Maximum booking:
15 days
General price:
$

3850 / day
8
6 day Luxury safari
Minimum booking:
3 days
Maximum booking:
15 days
General price:
$

3850 / day
9
6 day Luxury safari
Minimum booking:
3 days
Maximum booking:
15 days
General price:
$

3850 / day
10
6 day Luxury safari
Minimum booking:
3 days
Maximum booking:
15 days
General price:
$

3850 / day
11
6 day Luxury safari
Minimum booking:
3 days
Maximum booking:
15 days
General price:
$

3850 / day
12
6 day Luxury safari
Minimum booking:
3 days
Maximum booking:
15 days
General price:
$

3850 / day
13
6 day Luxury safari
Minimum booking:
3 days
Maximum booking:
15 days
General price:
$

3850 / day
14
6 day Luxury safari
Minimum booking:
3 days
Maximum booking:
15 days
General price:
$

3850 / day
15
6 day Luxury safari
Minimum booking:
3 days
Maximum booking:
15 days
General price:
$

3850 / day
16
6 day Luxury safari
Minimum booking:
3 days
Maximum booking:
15 days
General price:
$

3850 / day
17
6 day Luxury safari
Minimum booking:
3 days
Maximum booking:
15 days
General price:
$

3850 / day
18
6 day Luxury safari
Minimum booking:
3 days
Maximum booking:
15 days
General price:
$

3850 / day
19
6 day Luxury safari
Minimum booking:
3 days
Maximum booking:
15 days
General price:
$

3850 / day
20
6 day Luxury safari
Minimum booking:
3 days
Maximum booking:
15 days
General price:
$

3850 / day
21
6 day Luxury safari
Minimum booking:
3 days
Maximum booking:
15 days
General price:
$

3850 / day
22
6 day Luxury safari
Minimum booking:
3 days
Maximum booking:
15 days
General price:
$

3850 / day
23
6 day Luxury safari
Minimum booking:
3 days
Maximum booking:
15 days
General price:
$

3850 / day
24
6 day Luxury safari
Minimum booking:
3 days
Maximum booking:
15 days
General price:
$

3850 / day
25
6 day Luxury safari
Minimum booking:
3 days
Maximum booking:
15 days
General price:
$

3850 / day
26
6 day Luxury safari
Minimum booking:
3 days
Maximum booking:
15 days
General price:
$

3850 / day
27
6 day Luxury safari
Minimum booking:
3 days
Maximum booking:
15 days
General price:
$

3850 / day
28
6 day Luxury safari
Minimum booking:
3 days
Maximum booking:
15 days
General price:
$

3850 / day
29
6 day Luxury safari
Minimum booking:
3 days
Maximum booking:
15 days
General price:
$

3850 / day
30
6 day Luxury safari
Minimum booking:
3 days
Maximum booking:
15 days
General price:
$

3850 / day
1
6 day Luxury safari
Minimum booking:
3 days
Maximum booking:
15 days
General price:
$

3850 / day
25
6 day Luxury safari
Minimum booking:
3 days
Maximum booking:
15 days
General price:
$

3850 / day
26
6 day Luxury safari
Minimum booking:
3 days
Maximum booking:
15 days
General price:
$

3850 / day
27
6 day Luxury safari
Minimum booking:
3 days
Maximum booking:
15 days
General price:
$

3850 / day
28
6 day Luxury safari
Minimum booking:
3 days
Maximum booking:
15 days
General price:
$

3850 / day
29
6 day Luxury safari
Minimum booking:
3 days
Maximum booking:
15 days
General price:
$

3850 / day
30
6 day Luxury safari
Minimum booking:
3 days
Maximum booking:
15 days
General price:
$

3850 / day
1
6 day Luxury safari
Minimum booking:
3 days
Maximum booking:
15 days
General price:
$

3850 / day
2
6 day Luxury safari
Minimum booking:
3 days
Maximum booking:
15 days
General price:
$

3850 / day
3
6 day Luxury safari
Minimum booking:
3 days
Maximum booking:
15 days
General price:
$

3850 / day
4
6 day Luxury safari
Minimum booking:
3 days
Maximum booking:
15 days
General price:
$

3850 / day
5
6 day Luxury safari
Minimum booking:
3 days
Maximum booking:
15 days
General price:
$

3850 / day
6
6 day Luxury safari
Minimum booking:
3 days
Maximum booking:
15 days
General price:
$

3850 / day
7
6 day Luxury safari
Minimum booking:
3 days
Maximum booking:
15 days
General price:
$

3850 / day
8
6 day Luxury safari
Minimum booking:
3 days
Maximum booking:
15 days
General price:
$

3850 / day
9
6 day Luxury safari
Minimum booking:
3 days
Maximum booking:
15 days
General price:
$

3850 / day
10
6 day Luxury safari
Minimum booking:
3 days
Maximum booking:
15 days
General price:
$

3850 / day
11
6 day Luxury safari
Minimum booking:
3 days
Maximum booking:
15 days
General price:
$

3850 / day
12
6 day Luxury safari
Minimum booking:
3 days
Maximum booking:
15 days
General price:
$

3850 / day
13
6 day Luxury safari
Minimum booking:
3 days
Maximum booking:
15 days
General price:
$

3850 / day
14
6 day Luxury safari
Minimum booking:
3 days
Maximum booking:
15 days
General price:
$

3850 / day
15
6 day Luxury safari
Minimum booking:
3 days
Maximum booking:
15 days
General price:
$

3850 / day
16
6 day Luxury safari
Minimum booking:
3 days
Maximum booking:
15 days
General price:
$

3850 / day
17
6 day Luxury safari
Minimum booking:
3 days
Maximum booking:
15 days
General price:
$

3850 / day
18
6 day Luxury safari
Minimum booking:
3 days
Maximum booking:
15 days
General price:
$

3850 / day
19
6 day Luxury safari
Minimum booking:
3 days
Maximum booking:
15 days
General price:
$

3850 / day
20
6 day Luxury safari
Minimum booking:
3 days
Maximum booking:
15 days
General price:
$

3850 / day
21
6 day Luxury safari
Minimum booking:
3 days
Maximum booking:
15 days
General price:
$

3850 / day
22
6 day Luxury safari
Minimum booking:
3 days
Maximum booking:
15 days
General price:
$

3850 / day
23
6 day Luxury safari
Minimum booking:
3 days
Maximum booking:
15 days
General price:
$

3850 / day
24
6 day Luxury safari
Minimum booking:
3 days
Maximum booking:
15 days
General price:
$

3850 / day
25
6 day Luxury safari
Minimum booking:
3 days
Maximum booking:
15 days
General price:
$

3850 / day
26
6 day Luxury safari
Minimum booking:
3 days
Maximum booking:
15 days
General price:
$

3850 / day
27
6 day Luxury safari
Minimum booking:
3 days
Maximum booking:
15 days
General price:
$

3850 / day
28
6 day Luxury safari
Minimum booking:
3 days
Maximum booking:
15 days
General price:
$

3850 / day
29
6 day Luxury safari
Minimum booking:
3 days
Maximum booking:
15 days
General price:
$

3850 / day
30
6 day Luxury safari
Minimum booking:
3 days
Maximum booking:
15 days
General price:
$

3850 / day
31
6 day Luxury safari
Minimum booking:
3 days
Maximum booking:
15 days
General price:
$

3850 / day
1
6 day Luxury safari
Minimum booking:
3 days
Maximum booking:
15 days
General price:
$

3850 / day
2
6 day Luxury safari
Minimum booking:
3 days
Maximum booking:
15 days
General price:
$

3850 / day
3
6 day Luxury safari
Minimum booking:
3 days
Maximum booking:
15 days
General price:
$

3850 / day
4
6 day Luxury safari
Minimum booking:
3 days
Maximum booking:
15 days
General price:
$

3850 / day
5
6 day Luxury safari
Minimum booking:
3 days
Maximum booking:
15 days
General price:
$

3850 / day
30
6 day Luxury safari
Minimum booking:
3 days
Maximum booking:
15 days
General price:
$

3850 / day
31
6 day Luxury safari
Minimum booking:
3 days
Maximum booking:
15 days
General price:
$

3850 / day
1
6 day Luxury safari
Minimum booking:
3 days
Maximum booking:
15 days
General price:
$

3850 / day
2
6 day Luxury safari
Minimum booking:
3 days
Maximum booking:
15 days
General price:
$

3850 / day
3
6 day Luxury safari
Minimum booking:
3 days
Maximum booking:
15 days
General price:
$

3850 / day
4
6 day Luxury safari
Minimum booking:
3 days
Maximum booking:
15 days
General price:
$

3850 / day
5
6 day Luxury safari
Minimum booking:
3 days
Maximum booking:
15 days
General price:
$

3850 / day
6
6 day Luxury safari
Minimum booking:
3 days
Maximum booking:
15 days
General price:
$

3850 / day
7
6 day Luxury safari
Minimum booking:
3 days
Maximum booking:
15 days
General price:
$

3850 / day
8
6 day Luxury safari
Minimum booking:
3 days
Maximum booking:
15 days
General price:
$

3850 / day
9
6 day Luxury safari
Minimum booking:
3 days
Maximum booking:
15 days
General price:
$

3850 / day
10
6 day Luxury safari
Minimum booking:
3 days
Maximum booking:
15 days
General price:
$

3850 / day
11
6 day Luxury safari
Minimum booking:
3 days
Maximum booking:
15 days
General price:
$

3850 / day
12
6 day Luxury safari
Minimum booking:
3 days
Maximum booking:
15 days
General price:
$

3850 / day
13
6 day Luxury safari
Minimum booking:
3 days
Maximum booking:
15 days
General price:
$

3850 / day
14
6 day Luxury safari
Minimum booking:
3 days
Maximum booking:
15 days
General price:
$

3850 / day
15
6 day Luxury safari
Minimum booking:
3 days
Maximum booking:
15 days
General price:
$

3850 / day
16
6 day Luxury safari
Minimum booking:
3 days
Maximum booking:
15 days
General price:
$

3850 / day
17
6 day Luxury safari
Minimum booking:
3 days
Maximum booking:
15 days
General price:
$

3850 / day
18
6 day Luxury safari
Minimum booking:
3 days
Maximum booking:
15 days
General price:
$

3850 / day
19
6 day Luxury safari
Minimum booking:
3 days
Maximum booking:
15 days
General price:
$

3850 / day
20
6 day Luxury safari
Minimum booking:
3 days
Maximum booking:
15 days
General price:
$

3850 / day
21
6 day Luxury safari
Minimum booking:
3 days
Maximum booking:
15 days
General price:
$

3850 / day
22
6 day Luxury safari
Minimum booking:
3 days
Maximum booking:
15 days
General price:
$

3850 / day
23
6 day Luxury safari
Minimum booking:
3 days
Maximum booking:
15 days
General price:
$

3850 / day
24
6 day Luxury safari
Minimum booking:
3 days
Maximum booking:
15 days
General price:
$

3850 / day
25
6 day Luxury safari
Minimum booking:
3 days
Maximum booking:
15 days
General price:
$

3850 / day
26
6 day Luxury safari
Minimum booking:
3 days
Maximum booking:
15 days
General price:
$

3850 / day
27
6 day Luxury safari
Minimum booking:
3 days
Maximum booking:
15 days
General price:
$

3850 / day
28
6 day Luxury safari
Minimum booking:
3 days
Maximum booking:
15 days
General price:
$

3850 / day
29
6 day Luxury safari
Minimum booking:
3 days
Maximum booking:
15 days
General price:
$

3850 / day
30
6 day Luxury safari
Minimum booking:
3 days
Maximum booking:
15 days
General price:
$

3850 / day
1
6 day Luxury safari
Minimum booking:
3 days
Maximum booking:
15 days
General price:
$

3850 / day
2
6 day Luxury safari
Minimum booking:
3 days
Maximum booking:
15 days
General price:
$

3850 / day
3
6 day Luxury safari
Minimum booking:
3 days
Maximum booking:
15 days
General price:
$

3850 / day
27
6 day Luxury safari
Minimum booking:
3 days
Maximum booking:
15 days
General price:
$

3850 / day
28
6 day Luxury safari
Minimum booking:
3 days
Maximum booking:
15 days
General price:
$

3850 / day
29
6 day Luxury safari
Minimum booking:
3 days
Maximum booking:
15 days
General price:
$

3850 / day
30
6 day Luxury safari
Minimum booking:
3 days
Maximum booking:
15 days
General price:
$

3850 / day
1
6 day Luxury safari
Minimum booking:
3 days
Maximum booking:
15 days
General price:
$

3850 / day
2
6 day Luxury safari
Minimum booking:
3 days
Maximum booking:
15 days
General price:
$

3850 / day
3
6 day Luxury safari
Minimum booking:
3 days
Maximum booking:
15 days
General price:
$

3850 / day
4
6 day Luxury safari
Minimum booking:
3 days
Maximum booking:
15 days
General price:
$

3850 / day
5
6 day Luxury safari
Minimum booking:
3 days
Maximum booking:
15 days
General price:
$

3850 / day
6
6 day Luxury safari
Minimum booking:
3 days
Maximum booking:
15 days
General price:
$

3850 / day
7
6 day Luxury safari
Minimum booking:
3 days
Maximum booking:
15 days
General price:
$

3850 / day
8
6 day Luxury safari
Minimum booking:
3 days
Maximum booking:
15 days
General price:
$

3850 / day
9
6 day Luxury safari
Minimum booking:
3 days
Maximum booking:
15 days
General price:
$

3850 / day
10
6 day Luxury safari
Minimum booking:
3 days
Maximum booking:
15 days
General price:
$

3850 / day
11
6 day Luxury safari
Minimum booking:
3 days
Maximum booking:
15 days
General price:
$

3850 / day
12
6 day Luxury safari
Minimum booking:
3 days
Maximum booking:
15 days
General price:
$

3850 / day
13
6 day Luxury safari
Minimum booking:
3 days
Maximum booking:
15 days
General price:
$

3850 / day
14
6 day Luxury safari
Minimum booking:
3 days
Maximum booking:
15 days
General price:
$

3850 / day
15
6 day Luxury safari
Minimum booking:
3 days
Maximum booking:
15 days
General price:
$

3850 / day
16
6 day Luxury safari
Minimum booking:
3 days
Maximum booking:
15 days
General price:
$

3850 / day
17
6 day Luxury safari
Minimum booking:
3 days
Maximum booking:
15 days
General price:
$

3850 / day
18
6 day Luxury safari
Minimum booking:
3 days
Maximum booking:
15 days
General price:
$

3850 / day
19
6 day Luxury safari
Minimum booking:
3 days
Maximum booking:
15 days
General price:
$

3850 / day
20
6 day Luxury safari
Minimum booking:
3 days
Maximum booking:
15 days
General price:
$

3850 / day
21
6 day Luxury safari
Minimum booking:
3 days
Maximum booking:
15 days
General price:
$

3850 / day
22
6 day Luxury safari
Minimum booking:
3 days
Maximum booking:
15 days
General price:
$

3850 / day
23
6 day Luxury safari
Minimum booking:
3 days
Maximum booking:
15 days
General price:
$

3850 / day
24
6 day Luxury safari
Minimum booking:
3 days
Maximum booking:
15 days
General price:
$

3850 / day
25
6 day Luxury safari
Minimum booking:
3 days
Maximum booking:
15 days
General price:
$

3850 / day
26
6 day Luxury safari
Minimum booking:
3 days
Maximum booking:
15 days
General price:
$

3850 / day
27
6 day Luxury safari
Minimum booking:
3 days
Maximum booking:
15 days
General price:
$

3850 / day
28
6 day Luxury safari
Minimum booking:
3 days
Maximum booking:
15 days
General price:
$

3850 / day
29
6 day Luxury safari
Minimum booking:
3 days
Maximum booking:
15 days
General price:
$

3850 / day
30
6 day Luxury safari
Minimum booking:
3 days
Maximum booking:
15 days
General price:
$

3850 / day
31
6 day Luxury safari
Minimum booking:
3 days
Maximum booking:
15 days
General price:
$

3850 / day
1
6 day Luxury safari
Minimum booking:
3 days
Maximum booking:
15 days
General price:
$

3850 / day
2
6 day Luxury safari
Minimum booking:
3 days
Maximum booking:
15 days
General price:
$

3850 / day
3
6 day Luxury safari
Minimum booking:
3 days
Maximum booking:
15 days
General price:
$

3850 / day
4
6 day Luxury safari
Minimum booking:
3 days
Maximum booking:
15 days
General price:
$

3850 / day
5
6 day Luxury safari
Minimum booking:
3 days
Maximum booking:
15 days
General price:
$

3850 / day
6
6 day Luxury safari
Minimum booking:
3 days
Maximum booking:
15 days
General price:
$

3850 / day
7
6 day Luxury safari
Minimum booking:
3 days
Maximum booking:
15 days
General price:
$

3850 / day
8
6 day Luxury safari
Minimum booking:
3 days
Maximum booking:
15 days
General price:
$

3850 / day
9
6 day Luxury safari
Minimum booking:
3 days
Maximum booking:
15 days
General price:
$

3850 / day
10
6 day Luxury safari
Minimum booking:
3 days
Maximum booking:
15 days
General price:
$

3850 / day
11
6 day Luxury safari
Minimum booking:
3 days
Maximum booking:
15 days
General price:
$

3850 / day
12
6 day Luxury safari
Minimum booking:
3 days
Maximum booking:
15 days
General price:
$

3850 / day
13
6 day Luxury safari
Minimum booking:
3 days
Maximum booking:
15 days
General price:
$

3850 / day
14
6 day Luxury safari
Minimum booking:
3 days
Maximum booking:
15 days
General price:
$

3850 / day
15
6 day Luxury safari
Minimum booking:
3 days
Maximum booking:
15 days
General price:
$

3850 / day
16
6 day Luxury safari
Minimum booking:
3 days
Maximum booking:
15 days
General price:
$

3850 / day
17
6 day Luxury safari
Minimum booking:
3 days
Maximum booking:
15 days
General price:
$

3850 / day
18
6 day Luxury safari
Minimum booking:
3 days
Maximum booking:
15 days
General price:
$

3850 / day
19
6 day Luxury safari
Minimum booking:
3 days
Maximum booking:
15 days
General price:
$

3850 / day
20
6 day Luxury safari
Minimum booking:
3 days
Maximum booking:
15 days
General price:
$

3850 / day
21
6 day Luxury safari
Minimum booking:
3 days
Maximum booking:
15 days
General price:
$

3850 / day
22
6 day Luxury safari
Minimum booking:
3 days
Maximum booking:
15 days
General price:
$

3850 / day
23
6 day Luxury safari
Minimum booking:
3 days
Maximum booking:
15 days
General price:
$

3850 / day
24
6 day Luxury safari
Minimum booking:
3 days
Maximum booking:
15 days
General price:
$

3850 / day
25
6 day Luxury safari
Minimum booking:
3 days
Maximum booking:
15 days
General price:
$

3850 / day
26
6 day Luxury safari
Minimum booking:
3 days
Maximum booking:
15 days
General price:
$

3850 / day
27
6 day Luxury safari
Minimum booking:
3 days
Maximum booking:
15 days
General price:
$

3850 / day
28
6 day Luxury safari
Minimum booking:
3 days
Maximum booking:
15 days
General price:
$

3850 / day
29
6 day Luxury safari
Minimum booking:
3 days
Maximum booking:
15 days
General price:
$

3850 / day
30
6 day Luxury safari
Minimum booking:
3 days
Maximum booking:
15 days
General price:
$

3850 / day
31
6 day Luxury safari
Minimum booking:
3 days
Maximum booking:
15 days
General price:
$

3850 / day
1
6 day Luxury safari
Minimum booking:
3 days
Maximum booking:
15 days
General price:
$

3850 / day
2
6 day Luxury safari
Minimum booking:
3 days
Maximum booking:
15 days
General price:
$

3850 / day
3
6 day Luxury safari
Minimum booking:
3 days
Maximum booking:
15 days
General price:
$

3850 / day
4
6 day Luxury safari
Minimum booking:
3 days
Maximum booking:
15 days
General price:
$

3850 / day
29
6 day Luxury safari
Minimum booking:
3 days
Maximum booking:
15 days
General price:
$

3850 / day
30
6 day Luxury safari
Minimum booking:
3 days
Maximum booking:
15 days
General price:
$

3850 / day
31
6 day Luxury safari
Minimum booking:
3 days
Maximum booking:
15 days
General price:
$

3850 / day
1
6 day Luxury safari
Minimum booking:
3 days
Maximum booking:
15 days
General price:
$

3850 / day
2
6 day Luxury safari
Minimum booking:
3 days
Maximum booking:
15 days
General price:
$

3850 / day
3
6 day Luxury safari
Minimum booking:
3 days
Maximum booking:
15 days
General price:
$

3850 / day
4
6 day Luxury safari
Minimum booking:
3 days
Maximum booking:
15 days
General price:
$

3850 / day
5
6 day Luxury safari
Minimum booking:
3 days
Maximum booking:
15 days
General price:
$

3850 / day
6
6 day Luxury safari
Minimum booking:
3 days
Maximum booking:
15 days
General price:
$

3850 / day
7
6 day Luxury safari
Minimum booking:
3 days
Maximum booking:
15 days
General price:
$

3850 / day
8
6 day Luxury safari
Minimum booking:
3 days
Maximum booking:
15 days
General price:
$

3850 / day
9
6 day Luxury safari
Minimum booking:
3 days
Maximum booking:
15 days
General price:
$

3850 / day
10
6 day Luxury safari
Minimum booking:
3 days
Maximum booking:
15 days
General price:
$

3850 / day
11
6 day Luxury safari
Minimum booking:
3 days
Maximum booking:
15 days
General price:
$

3850 / day
12
6 day Luxury safari
Minimum booking:
3 days
Maximum booking:
15 days
General price:
$

3850 / day
13
6 day Luxury safari
Minimum booking:
3 days
Maximum booking:
15 days
General price:
$

3850 / day
14
6 day Luxury safari
Minimum booking:
3 days
Maximum booking:
15 days
General price:
$

3850 / day
15
6 day Luxury safari
Minimum booking:
3 days
Maximum booking:
15 days
General price:
$

3850 / day
16
6 day Luxury safari
Minimum booking:
3 days
Maximum booking:
15 days
General price:
$

3850 / day
17
6 day Luxury safari
Minimum booking:
3 days
Maximum booking:
15 days
General price:
$

3850 / day
18
6 day Luxury safari
Minimum booking:
3 days
Maximum booking:
15 days
General price:
$

3850 / day
19
6 day Luxury safari
Minimum booking:
3 days
Maximum booking:
15 days
General price:
$

3850 / day
20
6 day Luxury safari
Minimum booking:
3 days
Maximum booking:
15 days
General price:
$

3850 / day
21
6 day Luxury safari
Minimum booking:
3 days
Maximum booking:
15 days
General price:
$

3850 / day
22
6 day Luxury safari
Minimum booking:
3 days
Maximum booking:
15 days
General price:
$

3850 / day
23
6 day Luxury safari
Minimum booking:
3 days
Maximum booking:
15 days
General price:
$

3850 / day
24
6 day Luxury safari
Minimum booking:
3 days
Maximum booking:
15 days
General price:
$

3850 / day
25
6 day Luxury safari
Minimum booking:
3 days
Maximum booking:
15 days
General price:
$

3850 / day
26
6 day Luxury safari
Minimum booking:
3 days
Maximum booking:
15 days
General price:
$

3850 / day
27
6 day Luxury safari
Minimum booking:
3 days
Maximum booking:
15 days
General price:
$

3850 / day
28
6 day Luxury safari
Minimum booking:
3 days
Maximum booking:
15 days
General price:
$

3850 / day
29
6 day Luxury safari
Minimum booking:
3 days
Maximum booking:
15 days
General price:
$

3850 / day
1
6 day Luxury safari
Minimum booking:
3 days
Maximum booking:
15 days
General price:
$

3850 / day
2
6 day Luxury safari
Minimum booking:
3 days
Maximum booking:
15 days
General price:
$

3850 / day
3
6 day Luxury safari
Minimum booking:
3 days
Maximum booking:
15 days
General price:
$

3850 / day
26
6 day Luxury safari
Minimum booking:
3 days
Maximum booking:
15 days
General price:
$

3850 / day
27
6 day Luxury safari
Minimum booking:
3 days
Maximum booking:
15 days
General price:
$

3850 / day
28
6 day Luxury safari
Minimum booking:
3 days
Maximum booking:
15 days
General price:
$

3850 / day
29
6 day Luxury safari
Minimum booking:
3 days
Maximum booking:
15 days
General price:
$

3850 / day
1
6 day Luxury safari
Minimum booking:
3 days
Maximum booking:
15 days
General price:
$

3850 / day
2
6 day Luxury safari
Minimum booking:
3 days
Maximum booking:
15 days
General price:
$

3850 / day
3
6 day Luxury safari
Minimum booking:
3 days
Maximum booking:
15 days
General price:
$

3850 / day
4
6 day Luxury safari
Minimum booking:
3 days
Maximum booking:
15 days
General price:
$

3850 / day
5
6 day Luxury safari
Minimum booking:
3 days
Maximum booking:
15 days
General price:
$

3850 / day
6
6 day Luxury safari
Minimum booking:
3 days
Maximum booking:
15 days
General price:
$

3850 / day
7
6 day Luxury safari
Minimum booking:
3 days
Maximum booking:
15 days
General price:
$

3850 / day
8
6 day Luxury safari
Minimum booking:
3 days
Maximum booking:
15 days
General price:
$

3850 / day
9
6 day Luxury safari
Minimum booking:
3 days
Maximum booking:
15 days
General price:
$

3850 / day
10
6 day Luxury safari
Minimum booking:
3 days
Maximum booking:
15 days
General price:
$

3850 / day
11
6 day Luxury safari
Minimum booking:
3 days
Maximum booking:
15 days
General price:
$

3850 / day
12
6 day Luxury safari
Minimum booking:
3 days
Maximum booking:
15 days
General price:
$

3850 / day
13
6 day Luxury safari
Minimum booking:
3 days
Maximum booking:
15 days
General price:
$

3850 / day
14
6 day Luxury safari
Minimum booking:
3 days
Maximum booking:
15 days
General price:
$

3850 / day
15
6 day Luxury safari
Minimum booking:
3 days
Maximum booking:
15 days
General price:
$

3850 / day
16
6 day Luxury safari
Minimum booking:
3 days
Maximum booking:
15 days
General price:
$

3850 / day
17
6 day Luxury safari
Minimum booking:
3 days
Maximum booking:
15 days
General price:
$

3850 / day
18
6 day Luxury safari
Minimum booking:
3 days
Maximum booking:
15 days
General price:
$

3850 / day
19
6 day Luxury safari
Minimum booking:
3 days
Maximum booking:
15 days
General price:
$

3850 / day
20
6 day Luxury safari
Minimum booking:
3 days
Maximum booking:
15 days
General price:
$

3850 / day
21
6 day Luxury safari
Minimum booking:
3 days
Maximum booking:
15 days
General price:
$

3850 / day
22
6 day Luxury safari
Minimum booking:
3 days
Maximum booking:
15 days
General price:
$

3850 / day
23
6 day Luxury safari
Minimum booking:
3 days
Maximum booking:
15 days
General price:
$

3850 / day
24
6 day Luxury safari
Minimum booking:
3 days
Maximum booking:
15 days
General price:
$

3850 / day
25
6 day Luxury safari
Minimum booking:
3 days
Maximum booking:
15 days
General price:
$

3850 / day
26
6 day Luxury safari
Minimum booking:
3 days
Maximum booking:
15 days
General price:
$

3850 / day
27
6 day Luxury safari
Minimum booking:
3 days
Maximum booking:
15 days
General price:
$

3850 / day
28
6 day Luxury safari
Minimum booking:
3 days
Maximum booking:
15 days
General price:
$

3850 / day
29
6 day Luxury safari
Minimum booking:
3 days
Maximum booking:
15 days
General price:
$

3850 / day
30
6 day Luxury safari
Minimum booking:
3 days
Maximum booking:
15 days
General price:
$

3850 / day
31
6 day Luxury safari
Minimum booking:
3 days
Maximum booking:
15 days
General price:
$

3850 / day
1
6 day Luxury safari
Minimum booking:
3 days
Maximum booking:
15 days
General price:
$

3850 / day
2
6 day Luxury safari
Minimum booking:
3 days
Maximum booking:
15 days
General price:
$

3850 / day
3
6 day Luxury safari
Minimum booking:
3 days
Maximum booking:
15 days
General price:
$

3850 / day
4
6 day Luxury safari
Minimum booking:
3 days
Maximum booking:
15 days
General price:
$

3850 / day
5
6 day Luxury safari
Minimum booking:
3 days
Maximum booking:
15 days
General price:
$

3850 / day
6
6 day Luxury safari
Minimum booking:
3 days
Maximum booking:
15 days
General price:
$

3850 / day
7
6 day Luxury safari
Minimum booking:
3 days
Maximum booking:
15 days
General price:
$

3850 / day
8
6 day Luxury safari
Minimum booking:
3 days
Maximum booking:
15 days
General price:
$

3850 / day
9
6 day Luxury safari
Minimum booking:
3 days
Maximum booking:
15 days
General price:
$

3850 / day
10
6 day Luxury safari
Minimum booking:
3 days
Maximum booking:
15 days
General price:
$

3850 / day
11
6 day Luxury safari
Minimum booking:
3 days
Maximum booking:
15 days
General price:
$

3850 / day
12
6 day Luxury safari
Minimum booking:
3 days
Maximum booking:
15 days
General price:
$

3850 / day
13
6 day Luxury safari
Minimum booking:
3 days
Maximum booking:
15 days
General price:
$

3850 / day
14
6 day Luxury safari
Minimum booking:
3 days
Maximum booking:
15 days
General price:
$

3850 / day
15
6 day Luxury safari
Minimum booking:
3 days
Maximum booking:
15 days
General price:
$

3850 / day
16
6 day Luxury safari
Minimum booking:
3 days
Maximum booking:
15 days
General price:
$

3850 / day
17
6 day Luxury safari
Minimum booking:
3 days
Maximum booking:
15 days
General price:
$

3850 / day
18
6 day Luxury safari
Minimum booking:
3 days
Maximum booking:
15 days
General price:
$

3850 / day
19
6 day Luxury safari
Minimum booking:
3 days
Maximum booking:
15 days
General price:
$

3850 / day
20
6 day Luxury safari
Minimum booking:
3 days
Maximum booking:
15 days
General price:
$

3850 / day
21
6 day Luxury safari
Minimum booking:
3 days
Maximum booking:
15 days
General price:
$

3850 / day
22
6 day Luxury safari
Minimum booking:
3 days
Maximum booking:
15 days
General price:
$

3850 / day
23
6 day Luxury safari
Minimum booking:
3 days
Maximum booking:
15 days
General price:
$

3850 / day
24
6 day Luxury safari
Minimum booking:
3 days
Maximum booking:
15 days
General price:
$

3850 / day
25
6 day Luxury safari
Minimum booking:
3 days
Maximum booking:
15 days
General price:
$

3850 / day
26
6 day Luxury safari
Minimum booking:
3 days
Maximum booking:
15 days
General price:
$

3850 / day
27
6 day Luxury safari
Minimum booking:
3 days
Maximum booking:
15 days
General price:
$

3850 / day
28
6 day Luxury safari
Minimum booking:
3 days
Maximum booking:
15 days
General price:
$

3850 / day
29
6 day Luxury safari
Minimum booking:
3 days
Maximum booking:
15 days
General price:
$

3850 / day
30
6 day Luxury safari
Minimum booking:
3 days
Maximum booking:
15 days
General price:
$

3850 / day
1
6 day Luxury safari
Minimum booking:
3 days
Maximum booking:
15 days
General price:
$

3850 / day
2
6 day Luxury safari
Minimum booking:
3 days
Maximum booking:
15 days
General price:
$

3850 / day
3
6 day Luxury safari
Minimum booking:
3 days
Maximum booking:
15 days
General price:
$

3850 / day
4
6 day Luxury safari
Minimum booking:
3 days
Maximum booking:
15 days
General price:
$

3850 / day
5
6 day Luxury safari
Minimum booking:
3 days
Maximum booking:
15 days
General price:
$

3850 / day
29
6 day Luxury safari
Minimum booking:
3 days
Maximum booking:
15 days
General price:
$

3850 / day
30
6 day Luxury safari
Minimum booking:
3 days
Maximum booking:
15 days
General price:
$

3850 / day
1
6 day Luxury safari
Minimum booking:
3 days
Maximum booking:
15 days
General price:
$

3850 / day
2
6 day Luxury safari
Minimum booking:
3 days
Maximum booking:
15 days
General price:
$

3850 / day
3
6 day Luxury safari
Minimum booking:
3 days
Maximum booking:
15 days
General price:
$

3850 / day
4
6 day Luxury safari
Minimum booking:
3 days
Maximum booking:
15 days
General price:
$

3850 / day
5
6 day Luxury safari
Minimum booking:
3 days
Maximum booking:
15 days
General price:
$

3850 / day
6
6 day Luxury safari
Minimum booking:
3 days
Maximum booking:
15 days
General price:
$

3850 / day
7
6 day Luxury safari
Minimum booking:
3 days
Maximum booking:
15 days
General price:
$

3850 / day
8
6 day Luxury safari
Minimum booking:
3 days
Maximum booking:
15 days
General price:
$

3850 / day
9
6 day Luxury safari
Minimum booking:
3 days
Maximum booking:
15 days
General price:
$

3850 / day
10
6 day Luxury safari
Minimum booking:
3 days
Maximum booking:
15 days
General price:
$

3850 / day
11
6 day Luxury safari
Minimum booking:
3 days
Maximum booking:
15 days
General price:
$

3850 / day
12
6 day Luxury safari
Minimum booking:
3 days
Maximum booking:
15 days
General price:
$

3850 / day
13
6 day Luxury safari
Minimum booking:
3 days
Maximum booking:
15 days
General price:
$

3850 / day
14
6 day Luxury safari
Minimum booking:
3 days
Maximum booking:
15 days
General price:
$

3850 / day
15
6 day Luxury safari
Minimum booking:
3 days
Maximum booking:
15 days
General price:
$

3850 / day
16
6 day Luxury safari
Minimum booking:
3 days
Maximum booking:
15 days
General price:
$

3850 / day
17
6 day Luxury safari
Minimum booking:
3 days
Maximum booking:
15 days
General price:
$

3850 / day
18
6 day Luxury safari
Minimum booking:
3 days
Maximum booking:
15 days
General price:
$

3850 / day
19
6 day Luxury safari
Minimum booking:
3 days
Maximum booking:
15 days
General price:
$

3850 / day
20
6 day Luxury safari
Minimum booking:
3 days
Maximum booking:
15 days
General price:
$

3850 / day
21
6 day Luxury safari
Minimum booking:
3 days
Maximum booking:
15 days
General price:
$

3850 / day
22
6 day Luxury safari
Minimum booking:
3 days
Maximum booking:
15 days
General price:
$

3850 / day
23
6 day Luxury safari
Minimum booking:
3 days
Maximum booking:
15 days
General price:
$

3850 / day
24
6 day Luxury safari
Minimum booking:
3 days
Maximum booking:
15 days
General price:
$

3850 / day
25
6 day Luxury safari
Minimum booking:
3 days
Maximum booking:
15 days
General price:
$

3850 / day
26
6 day Luxury safari
Minimum booking:
3 days
Maximum booking:
15 days
General price:
$

3850 / day
27
6 day Luxury safari
Minimum booking:
3 days
Maximum booking:
15 days
General price:
$

3850 / day
28
6 day Luxury safari
Minimum booking:
3 days
Maximum booking:
15 days
General price:
$

3850 / day
29
6 day Luxury safari
Minimum booking:
3 days
Maximum booking:
15 days
General price:
$

3850 / day
30
6 day Luxury safari
Minimum booking:
3 days
Maximum booking:
15 days
General price:
$

3850 / day
31
6 day Luxury safari
Minimum booking:
3 days
Maximum booking:
15 days
General price:
$

3850 / day
1
6 day Luxury safari
Minimum booking:
3 days
Maximum booking:
15 days
General price:
$

3850 / day
2
6 day Luxury safari
Minimum booking:
3 days
Maximum booking:
15 days
General price:
$

3850 / day