Your next safari tour in Northern Tanzania - Safari Holidays in Tanzania
Your Africa bucket list in Tanzania



The unique wildlife safari in Tanzania
A Safari in Tanzania is a once-in-a-lifetime experience. Home to some of the most breathtaking wildlife safaris in the world. From Witnessing the Great Migration in Serengeti, entering the kingdom of Elephants in Tarangirie and experience the eden of Africa in the famous Ngorongoro. 
Tanzania is blessed by offering superb game viewing. Very few country can offer spectacular natural beauty and diversity of landscapes like Tanzania do. Can you image having the tallest free mountain standing on the planet – mount Kilimanjaro, a turquoise archipelago – Zanzibar, the Serengeti and the Ngorongoro Crater all in one country. 
The mission of Africa bucket list is to guide you to experience all the wonders of an unforgettable Safaris in Tanzania. We can also arrange according to your wishes any booking inquiry. We are here to make sure you check your Africa bucket list !
If you're wishing to plan your wildlife adventure with our exclusive vehicle and your own safari guide you can click here to know more about an exclusive private wildlife. 
It can be hard to choose which safari tour to go on among all the options offered. That's why we've created these detailed safari package with different days and different accommodations; so you can plan your trip with confidence.
How it Works to book your safari in Tanzania
Read our recommended safaris. Select your travel partners and your departure dates.
Select the national parks and the numbers of days 
Contact us directly or fill out an enquiry form and our team will help you design your perfect safari
Once you paid 30% off the booking, we send you a confirmation booking and we will wait for you in sunny Tanzania !
Explore our selection of unforgettable safaris
Witness the Great Migration in Serengeti, enter the kingdom of Elephants in Tarangirie and experience the eden of Africa in the famous ngorongoro. We'll design your ideal adventure with you. Note that any Safari Package can be customised accordingly to fit your needs and requirements.
They had their safari in Tanzania with us
Take a look at some pictures of our latest guests who went on a safari with us
Experience the ulitimate safari in Tanzania
Witness a lion on the hunt in the wildlife of tarangire, picture the endangered rhinoceros, stuff your eyes of thousands of free animals rooming across the Serengeti plains. This is what Tanzania is offering, by far the best safari country in Africa. If you are excited to go on board for your next Safari Holidays in Tanzania, Africa bucket list is always ready to turn your African dreams into reality. You will witness unique mix of wildlife, and stunning landscapes. Three out of the seven natural wonders of Africa are also found in Tanzania.
Accommodation during your stay
To enjoy a complete safari in Tanzania, your accommodation should be comfortable. During your Tanzania safari, you will stay in comfy lodges with beautiful scenery and the sounds of wild animals around your lodge. Our tour company have agreements with award wining lodges and hotels in every national parks of Tanzania. 
Best time for safari in Tanzania
Visiting Tanzania for a safari depends on what wildlife you are looking for. The best time to visit Tanzania is from July to November during the dry season.
The raining season start around November to May. If you are excited to watch hunting scenes. Predators are pretty active during the raining season. If you are also into green landscapes, the vegetation is stunning during the rainy season. Another thing to consider during the rainy season is the low number of visitors.
The dry season start around June to October. It is the best period to witness the Great Migration. Additionally you will spot more animals during this period, especially near the rivers. 
Why do we offer private safaris in Tanzania
A safari in Tanzania is a one lifetime experience. And do you enjoy it to the fullest it is best to go on a private safari. You will have fully control on your journey the way you want. A private safari give you  flexibility on your timing and on your location . No matter what you wish, spending the whole day in the wildlife, relaxing earlier in your lodge, you, a private safari will give you that unforgettable experience.
Note that we offer customized private safaris. 
Tanzania's Serengeti National Park is known for a wildlife spectacle called The Great Migration. Every year, a million or so wildebeest and zebras travel about 1,900 miles; from their grazing grounds in Kenya to Tanzania's Masai Mara National Reserve; an annual journey that takes them six months to complete. Once they arrive at Masai Mara, they feast on rich grasses while preparing for an epic battle with other species: predator vs. prey. Wildebeest vs Zebra is literally on your plate when you eat zebra meat; it's considered one of Africa's most flavorful meats because it doesn't have strong-tasting fat and there are no marbling muscles.
How Much Does our Safari In Tanzania Cost?
Africa bucket list does it exist to offer affordable safaris in Tanzania for everyone.  The cost of a safari in Tanzania can be quite variable, as it depends on how long you wish to stay, what part of Tanzania you want to visit and what kind of amenities are important to you.  Our tour company have agreements with award wining lodges and hotels in every national parks of Tanzania. Your next safari tour in Northern Tanzania covers everything during your trip (expect mentioned otherwise) except the tickets to Tanzania.
You might want to check our latest posts on Instagram , our other social media and read TripAdvisor reviews of our company to learn more about Africa bucket list. 
Tips for your next Wildlife experience in Tanzania
1. Prepare the required documents
Before packing your bag to Tanzania, there are some vaccinations for tropical diseases requirements and recommendation to consider.
The Tanzania entry requirements have recently changed and visitors can now obtain a visa on arrival. Most people will enter Tanzania through Kilimanjaro International Airport (JRO); in Dar es Salaam, or at one of Tanzania's land border crossings with Kenya, Uganda or Rwanda. Citizens of most Western countries need a visa for travel to Tanzania for visits up to 90 days. Here you can find the whole list of the countries. The cost is $50 USD for all nationalities and is valid for 30 days after issue, and $100 for USA citizen. 
2. Items you need to pack for your wildlife adventure
Most people head to Tanzania in East Africa to see the natural beauty of the Serengeti, Ngorongoro Crater, and Mt. Kilimanjaro, which at 19,340 feet is the highest peak in Africa. Because Tanzania's climate can be unpredictable, you may have a few questions about what to expect in terms of weather when visiting this beautiful country.
Here's the basic travel gear to pack before you leave the house:
Phone charger 
portable phone charger 
Water bottle 
Socks 
Underwear 
Medicines 
clothes / swim gear / trek gear
walking shoes 
One pair of sandals or flip-flops
sleeping bag
toiletry bag
National parks of Tanzania
Our lovely Tanzania posses stunning parks and reserves. We are blessed having the biggest reserve of animals on the planet. Northern Tanzania parks are fantastic, Serengeti offers unique lion safaris and The Great Migration, Tarangire is famous for its fascinating elephants and Ngorongoro where you can spot the big 5. 
Here are the three areas of safaris destinations in Tanzania :
Northern Safari Circuit – popular safari route : the Serengeti, Ngorongoro and Lake Manyara, Tarangire 
Southern Tanzania –  Nyerere and Ruaha safaris destinations
Western Tanzania – Katavi and Mahale Tanzania safaris destinations
NOTE : One of the most important rules during your safari trip is to not feed animals in any parks in Tanzania. Anyone found feeding an animal inside the park is penalized accordingly. Here you can find more details about The Rules of the National Parks.
1. Serengeti National Park: Stunning flora-and-fauna,
If you're going to Tanzania, then it would be a big miss not to see one of Africa's most celebrated wildlife habitats. The Serengeti National Park is famed for its many grazing animals, and more than three million tourists visit each year. On a safari tour, you'll often see thousands of zebra and gazelle as well as giraffes and lions. If you want to add to your wildlife-viewing pleasure, consider staying at one of several luxury lodges located inside or near the park borders.
2. Ngorongoro Crater: the eden of Africa
Considered one of Tanzania's most popular tourist destinations in East Africa; Ngorongoro Crater is famous for being home to all five species of large African mammals: - elephants - rhinos - buffalos - lions - leopards Indeed, visitors are more likely to see a big cat than any other type of animal at Ngorongoro. The crater itself was formed by volcanic activity approximately two million years ago. It is more more pleasant to visit the ngorongoro crater during low season. The good thing is whenever you want visit to Ngorongoro, you are guaranteed to get an excellent safari action.
3. Tarangire National Park: the Kingdom of elephants
Covering an area of 2,600 square kilometers, Tarangirie national park is known for the endless elephant and tree-climbing lions. It is located near Lake Manyra and Ngorongoro Crater. The best time to visit is during the dry season ( June to October). During the dry season from June to November Tarangire hosts a wildlife migration. Since the period is dry, the Tarangire River is the only source of water so it attracts a large numbers of wildebeests, elephants, gazelles, zebras and many predators like lions that come to drink and graze around the river.
4. Lake Manyara : tree climbing lions
When visiting Lake Manyara National Park you will notice that lions spend most of their day resting up in the big fig trees. It is located in the northern part of Tanzania. The park covers an area of 330 km. The park is home to many species, including buffalo, hippo, giraffe, elephant, leopard, and its famous tree-climbing lions. Adding to this Lake Manyara host more than 350 species. You can easily spot pelicans and pink flamingos.
5. Arusha The Gateway to Safari in Tanzania
The safari capital of Tanzania, Arusha lies at the foot of Mount Meru. If you are visiting visiting the Serengeti, Ngorongoro Crater and Lake Manyara, you will probably stay an overnight layover in Arusha city. Arusha like Moshi does have an airport and provides a direct flight link to Dar es Salaam. Even most of the travllers landed in JRO airport and drive two hours away to Arusha.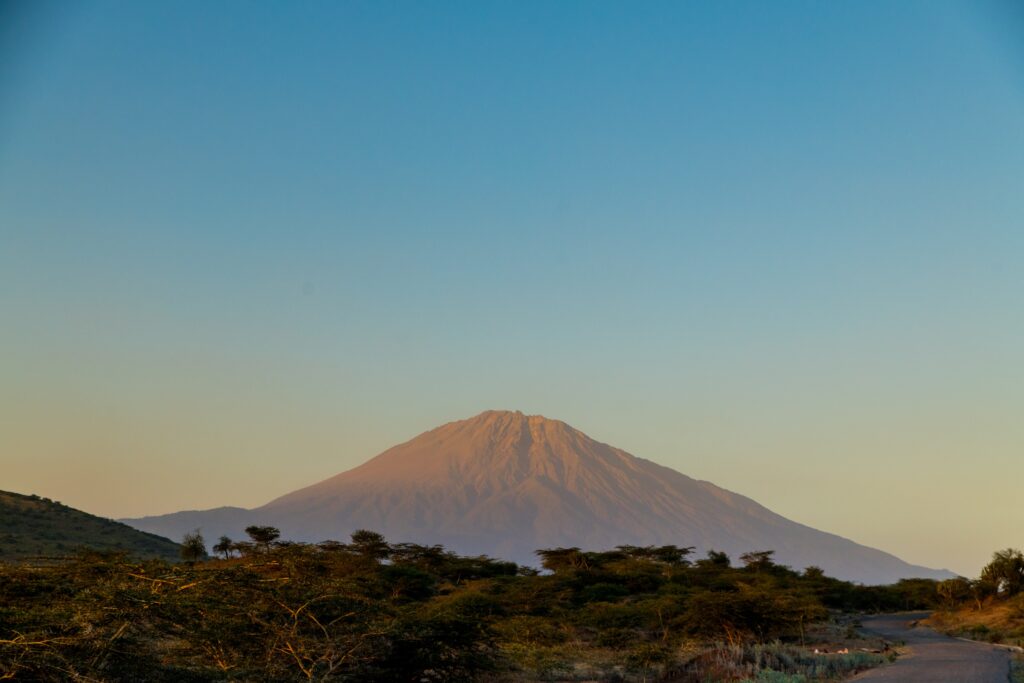 Drop us a message and our team will take care of your Africa bucket list in Tanzania !