Embark on a 4 day Tanzania luxury safari, where you'll experience the perfect blend of the 3 most famous parks in Tanzania's Northern circuit Tanzania. Tarangire will be on your first list, following by the world-renowned Serengeti national park and end your luxury safari with the stunning Ngorongoro Conservation.
TRIP ITINERARY
Day 1 Kilimanjaro International Airport To Arusha
Day 2 Arusha – Tarangire National Park – Karatu
Day 3 Karatu To Serengeti National Park
Day 4 From Serengeti National Park To Ngorongoro Conservation Area
Day 5 Ngorongoro Crater – Arusha
Accommodation during you 4 day luxury safari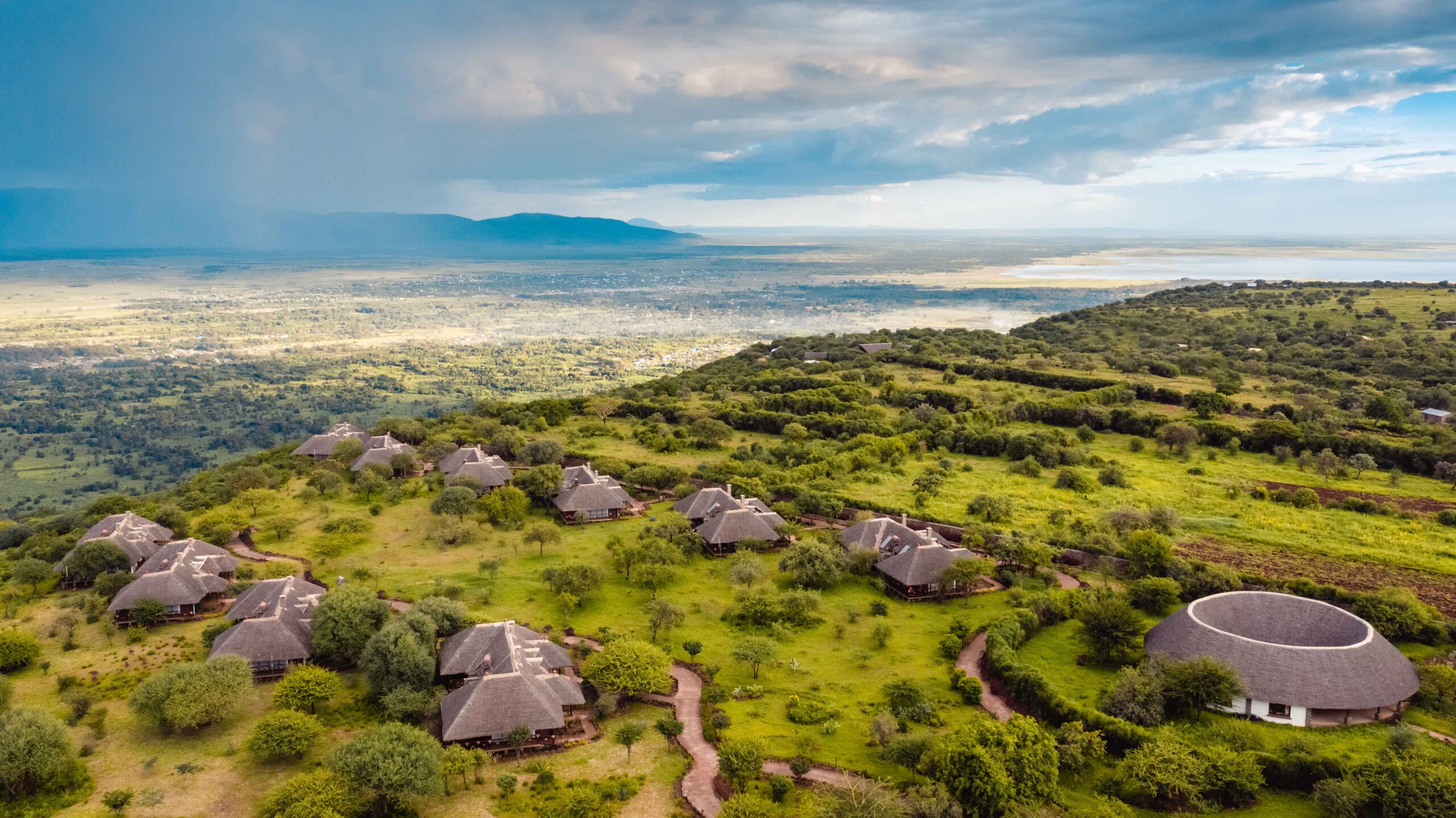 Embark on an unforgettable adventure with our Africa bucket list safari, where you'll be treated to luxurious full-board accommodations in stunning lodges. Our dedicated local staff regularly inspect each lodge to guarantee the highest standards of quality and comfort during your stay.
With our private safari in Tanzania itineraries you will immerse yourself in the heart of Tanzania's best national parks, where our lodges are strategically located to offer breathtaking views and unforgettable wildlife encounters. From the comfort of your private veranda, you can witness the awe-inspiring sights and sounds of lions roaring and elephants trumpeting in the African wilderness.
You will stay 1 night in Arusha and 3 nights on your luxury Safari: 
4 day Tanzania luxury safari - price per person (15 June 2023)
Options
2 persons
3 persons
4-7 persons

4 day Tanzania Luxury safari

 3820 $
3555 $
3230 $
This 4 day Tanzania luxury safari  is designed to give you the chance to witness animals roaming free in the wild of Tanzania with luxury accommodation.
We offer different Tanzania Safari Tours with different itineraries and accommodations. 
Park Entrance Fee:Park fee for Tarangire National ParkPark fee for Serengeti National ParkPark fee for Ngorongoro Crater

Accommodation:1 night in Arusha, 3 nights on Safari

Professional, English-Speaking Driver guide

4X4 Custom built – Toyota Land Cruiser

TO/FROM Kilimanjaro International Airport
Tipping

Any Changes done by you:The trip excludes changes done by you during safari or before safari which deviates from the original program.

Post Night Accommodation in Arusha:

Travel Insurance

Drinks at the lodges/tented camps:

Laundry Service:
Day 1 Kilimanjaro International Airport To Arusha
A staff member of Africa bucket list will pick you up from the Kilimanjaro International Airport (JRO). Then you will be driven to Gran Meliá Arusha and briefed on your forthcoming safari. Enjoy a restful night before beginning your adventure tomorrow!
Accommodation: Gran Meliá Arusha
Day 2 Arusha – Tarangire National Park – Karatu
After breakfast in Arusha, embark on a two-hour journey to Tarangire National Park. Along the way, witness the vibrant colors of Tanzania and perhaps spot Maasai herdsmen with their flocks of goats. Your knowledgeable driver-guide will impress you with their expertise. Once inside Tarangire, you'll be greeted by a vast golden savannah surrounding the Tarangire River. Known as the 'Elephant Playground,' this park boasts the largest population of elephants in Tanzania. Tarangire is also home to buffalo, lions, wildebeests, zebras, and gazelles, offering a wildlife experience that rivals the Serengeti. Keep an eye out for a solitary lion, a trio of cheetahs bonding in the sun, graceful Grant's gazelles, zebras, and giraffes feeding on acacia branches. Don't forget to appreciate the small animals too, like the color-changing male agama lizard or the hyrax, a surprising relative of elephants. The park is a haven for bird enthusiasts, with sightings of colorful species such as the lilac-breasted roller and superb starling. The iconic baobab trees, rolling savannah, and acacia woodlands add to the park's charm. Despite the occasional dustiness, it's a minor inconvenience compared to the abundance of wildlife. Enjoy an extensive game drive and a picnic lunch before leaving for the cooler Ngorongoro highlands.
Your accommodation will be at the Ngorongoro Oldeani Mountain Lodge, where you'll be served breakfast and a packed lunch, while dinner will be a delicious cooked meal prepared by the lodge's chef and team.
Note: Consider wearing a scarf to protect against dust during the game drive.
Day 3 Karatu To Serengeti National Park
After breakfast, you will set head off to the stunning Serengeti National Park. By late morning, you will reach Serengeti, a UNESCO World Heritage Site and most famous national park in the world. You will have game drive and enjoy the breath-taking scenery, fantastic changing light and – of course – spot the many animals choosing to make their home here. Your dedicated driver-guide will be delighted to share with you his knowledge of this incredible place and its flora and fauna. With thousands of predators – and their prey numbering in the hundreds of thousands – it is no surprise that there is always something fascinating happening amongst the wildlife populations. Your driver-guide may find you lion, leopard, elephant, zebra, cheetah and antelope on today's safari… just some of the many species here. Snap off some memorable photos, but don't forget to simply take a deep breath and enjoy nature in its real-time, raw beauty. After the game drive, you will be taken to your accommodation for some welcome rest, your evening meal and to spend the night.
Accommodation: Meliá Serengeti Lodge
Meal Plan: Breakfast is enjoyed at the Ngorongoro Oldeani Mountain Lodge. Lunch will be a nutritious and balanced meal, also provided by the lodge for you to take out on safari. Your dinner will be a delicious meal at the Meliá Serengeti Lodge.
Day 4: Serengeti National Park to Ngorongoro Conservation Area
After breakfast, enjoy a morning game drive in the amazing Serengeti National Park. The Seronera area in Central Serengeti is popular with both visitors and wildlife, thanks to its year-round flowing Seronera river. You may spot lions, hippos, elephants, and other fascinating animals during your game drive. Consider visiting the Serengeti Visitor Centre to learn about the park's ecosystem and the conservation efforts led by Bernhard Grzimek and the Frankfurt Zoological Society.
After lunch, travel southeast towards the Ngorongoro Conservation Area. The vastness of the Serengeti's endless plains will leave a lasting impression as you journey on the long, straight road. Pass by Simba Kopjes, famous from 'The Lion King,' and reach Naabi Hill Gate near the border between Serengeti and Ngorongoro. Take in the breathtaking views from the hill or keep an eye out for the colorful agama lizard among the rocks.
Accommodation: Ngorongoro Lion's Paw Camp Meals: Enjoy breakfast at the Meliá Serengeti Lodge. Lunch will be provided for your safari. Dinner will be served at the Ngorongoro Lion's Paw Camp.
Day 5 Ngorongoro Crater – Arusha
From your accommodation, you will set off after breakfast, a 6am departure to reach the rim and then descend into the vast crater itself. At one side there's the Lerai Forest, classic mountain forest landscape with almost tropical characteristics. This is good elephant country, so keep your eyes peeled. By the side of the nearby swampland is what is sometimes called the 'elephant graveyard' as the mighty male tuskers at the end of their lives come to chew on the soft, swampland grasses once their teeth have failed them.
The crater has a population of around 120 lions, with well-defined territories; 15,000 gnu, 9,000 zebra, 400 hyenas, and around 50 black rhino. Many gnu and other herd animals are resident, benefiting from the many sources of year-round waters and are boosted by some migrators in season. Buffalo, Serval, Jackal, Thomson's gazelle and eland are also present in numbers. Hippos can be found in pools and swampland and highland birdlife is colourful and plentiful around the waters. Flamingos can often be seen in Lake Magadi, which occupies part of the crater floor. After your morning game drive in this stunning crater and then lunch, you will have a 3 ½ hour journey, covering the 192 km back to Arusha.
Meal Plan: Breakfast is served at Ngorongoro Lion's Paw Camp. Lunch will be a nutritious and balanced meal, also provided by the camp for you to take out on safari and enjoyed after your morning game-drive, before you return to Arusha. As today is the end of safari, please note that dinner tonight is not included in the tour.
Departure Instructions: Please note this 4 Days Tanzania Luxury Safari ends at Arusha at 17:00hrs, your departure can only take place tomorrow if you have booked a domestic flight which departs from Kilimanjaro International Airport at 07:10hrs and onwards or an international flight which departs at 06:40hrs and onwards. Thus, you will need to book an extra night's accommodation (not included in the tour price) and take a flight the following day.
24
4 day Tanzania luxury safari
General price:
$

3230 / day
25
4 day Tanzania luxury safari
General price:
$

3230 / day
26
4 day Tanzania luxury safari
General price:
$

3230 / day
27
4 day Tanzania luxury safari
General price:
$

3230 / day
28
4 day Tanzania luxury safari
General price:
$

3230 / day
29
4 day Tanzania luxury safari
General price:
$

3230 / day
30
4 day Tanzania luxury safari
General price:
$

3230 / day
1
4 day Tanzania luxury safari
General price:
$

3230 / day
25
4 day Tanzania luxury safari
General price:
$

3230 / day
26
4 day Tanzania luxury safari
General price:
$

3230 / day
27
4 day Tanzania luxury safari
General price:
$

3230 / day
28
4 day Tanzania luxury safari
General price:
$

3230 / day
29
4 day Tanzania luxury safari
General price:
$

3230 / day
30
4 day Tanzania luxury safari
General price:
$

3230 / day
1
4 day Tanzania luxury safari
General price:
$

3230 / day
2
4 day Tanzania luxury safari
General price:
$

3230 / day
3
4 day Tanzania luxury safari
General price:
$

3230 / day
4
4 day Tanzania luxury safari
General price:
$

3230 / day
5
4 day Tanzania luxury safari
General price:
$

3230 / day
6
4 day Tanzania luxury safari
General price:
$

3230 / day
7
4 day Tanzania luxury safari
General price:
$

3230 / day
8
4 day Tanzania luxury safari
General price:
$

3230 / day
9
4 day Tanzania luxury safari
General price:
$

3230 / day
10
4 day Tanzania luxury safari
General price:
$

3230 / day
11
4 day Tanzania luxury safari
General price:
$

3230 / day
12
4 day Tanzania luxury safari
General price:
$

3230 / day
13
4 day Tanzania luxury safari
General price:
$

3230 / day
14
4 day Tanzania luxury safari
General price:
$

3230 / day
15
4 day Tanzania luxury safari
General price:
$

3230 / day
16
4 day Tanzania luxury safari
General price:
$

3230 / day
17
4 day Tanzania luxury safari
General price:
$

3230 / day
18
4 day Tanzania luxury safari
General price:
$

3230 / day
19
4 day Tanzania luxury safari
General price:
$

3230 / day
20
4 day Tanzania luxury safari
General price:
$

3230 / day
21
4 day Tanzania luxury safari
General price:
$

3230 / day
22
4 day Tanzania luxury safari
General price:
$

3230 / day
23
4 day Tanzania luxury safari
General price:
$

3230 / day
24
4 day Tanzania luxury safari
General price:
$

3230 / day
25
4 day Tanzania luxury safari
General price:
$

3230 / day
26
4 day Tanzania luxury safari
General price:
$

3230 / day
27
4 day Tanzania luxury safari
General price:
$

3230 / day
28
4 day Tanzania luxury safari
General price:
$

3230 / day
29
4 day Tanzania luxury safari
General price:
$

3230 / day
30
4 day Tanzania luxury safari
General price:
$

3230 / day
31
4 day Tanzania luxury safari
General price:
$

3230 / day
1
4 day Tanzania luxury safari
General price:
$

3230 / day
2
4 day Tanzania luxury safari
General price:
$

3230 / day
3
4 day Tanzania luxury safari
General price:
$

3230 / day
4
4 day Tanzania luxury safari
General price:
$

3230 / day
5
4 day Tanzania luxury safari
General price:
$

3230 / day
30
4 day Tanzania luxury safari
General price:
$

3230 / day
31
4 day Tanzania luxury safari
General price:
$

3230 / day
1
4 day Tanzania luxury safari
General price:
$

3230 / day
2
4 day Tanzania luxury safari
General price:
$

3230 / day
3
4 day Tanzania luxury safari
General price:
$

3230 / day
4
4 day Tanzania luxury safari
General price:
$

3230 / day
5
4 day Tanzania luxury safari
General price:
$

3230 / day
6
4 day Tanzania luxury safari
General price:
$

3230 / day
7
4 day Tanzania luxury safari
General price:
$

3230 / day
8
4 day Tanzania luxury safari
General price:
$

3230 / day
9
4 day Tanzania luxury safari
General price:
$

3230 / day
10
4 day Tanzania luxury safari
General price:
$

3230 / day
11
4 day Tanzania luxury safari
General price:
$

3230 / day
12
4 day Tanzania luxury safari
General price:
$

3230 / day
13
4 day Tanzania luxury safari
General price:
$

3230 / day
14
4 day Tanzania luxury safari
General price:
$

3230 / day
15
4 day Tanzania luxury safari
General price:
$

3230 / day
16
4 day Tanzania luxury safari
General price:
$

3230 / day
17
4 day Tanzania luxury safari
General price:
$

3230 / day
18
4 day Tanzania luxury safari
General price:
$

3230 / day
19
4 day Tanzania luxury safari
General price:
$

3230 / day
20
4 day Tanzania luxury safari
General price:
$

3230 / day
21
4 day Tanzania luxury safari
General price:
$

3230 / day
22
4 day Tanzania luxury safari
General price:
$

3230 / day
23
4 day Tanzania luxury safari
General price:
$

3230 / day
24
4 day Tanzania luxury safari
General price:
$

3230 / day
25
4 day Tanzania luxury safari
General price:
$

3230 / day
26
4 day Tanzania luxury safari
General price:
$

3230 / day
27
4 day Tanzania luxury safari
General price:
$

3230 / day
28
4 day Tanzania luxury safari
General price:
$

3230 / day
29
4 day Tanzania luxury safari
General price:
$

3230 / day
30
4 day Tanzania luxury safari
General price:
$

3230 / day
1
4 day Tanzania luxury safari
General price:
$

3230 / day
2
4 day Tanzania luxury safari
General price:
$

3230 / day
3
4 day Tanzania luxury safari
General price:
$

3230 / day
27
4 day Tanzania luxury safari
General price:
$

3230 / day
28
4 day Tanzania luxury safari
General price:
$

3230 / day
29
4 day Tanzania luxury safari
General price:
$

3230 / day
30
4 day Tanzania luxury safari
General price:
$

3230 / day
1
4 day Tanzania luxury safari
General price:
$

3230 / day
2
4 day Tanzania luxury safari
General price:
$

3230 / day
3
4 day Tanzania luxury safari
General price:
$

3230 / day
4
4 day Tanzania luxury safari
General price:
$

3230 / day
5
4 day Tanzania luxury safari
General price:
$

3230 / day
6
4 day Tanzania luxury safari
General price:
$

3230 / day
7
4 day Tanzania luxury safari
General price:
$

3230 / day
8
4 day Tanzania luxury safari
General price:
$

3230 / day
9
4 day Tanzania luxury safari
General price:
$

3230 / day
10
4 day Tanzania luxury safari
General price:
$

3230 / day
11
4 day Tanzania luxury safari
General price:
$

3230 / day
12
4 day Tanzania luxury safari
General price:
$

3230 / day
13
4 day Tanzania luxury safari
General price:
$

3230 / day
14
4 day Tanzania luxury safari
General price:
$

3230 / day
15
4 day Tanzania luxury safari
General price:
$

3230 / day
16
4 day Tanzania luxury safari
General price:
$

3230 / day
17
4 day Tanzania luxury safari
General price:
$

3230 / day
18
4 day Tanzania luxury safari
General price:
$

3230 / day
19
4 day Tanzania luxury safari
General price:
$

3230 / day
20
4 day Tanzania luxury safari
General price:
$

3230 / day
21
4 day Tanzania luxury safari
General price:
$

3230 / day
22
4 day Tanzania luxury safari
General price:
$

3230 / day
23
4 day Tanzania luxury safari
General price:
$

3230 / day
24
4 day Tanzania luxury safari
General price:
$

3230 / day
25
4 day Tanzania luxury safari
General price:
$

3230 / day
26
4 day Tanzania luxury safari
General price:
$

3230 / day
27
4 day Tanzania luxury safari
General price:
$

3230 / day
28
4 day Tanzania luxury safari
General price:
$

3230 / day
29
4 day Tanzania luxury safari
General price:
$

3230 / day
30
4 day Tanzania luxury safari
General price:
$

3230 / day
31
4 day Tanzania luxury safari
General price:
$

3230 / day
1
4 day Tanzania luxury safari
General price:
$

3230 / day
2
4 day Tanzania luxury safari
General price:
$

3230 / day
3
4 day Tanzania luxury safari
General price:
$

3230 / day
4
4 day Tanzania luxury safari
General price:
$

3230 / day
5
4 day Tanzania luxury safari
General price:
$

3230 / day
6
4 day Tanzania luxury safari
General price:
$

3230 / day
7
4 day Tanzania luxury safari
General price:
$

3230 / day
8
4 day Tanzania luxury safari
General price:
$

3230 / day
9
4 day Tanzania luxury safari
General price:
$

3230 / day
10
4 day Tanzania luxury safari
General price:
$

3230 / day
11
4 day Tanzania luxury safari
General price:
$

3230 / day
12
4 day Tanzania luxury safari
General price:
$

3230 / day
13
4 day Tanzania luxury safari
General price:
$

3230 / day
14
4 day Tanzania luxury safari
General price:
$

3230 / day
15
4 day Tanzania luxury safari
General price:
$

3230 / day
16
4 day Tanzania luxury safari
General price:
$

3230 / day
17
4 day Tanzania luxury safari
General price:
$

3230 / day
18
4 day Tanzania luxury safari
General price:
$

3230 / day
19
4 day Tanzania luxury safari
General price:
$

3230 / day
20
4 day Tanzania luxury safari
General price:
$

3230 / day
21
4 day Tanzania luxury safari
General price:
$

3230 / day
22
4 day Tanzania luxury safari
General price:
$

3230 / day
23
4 day Tanzania luxury safari
General price:
$

3230 / day
24
4 day Tanzania luxury safari
General price:
$

3230 / day
25
4 day Tanzania luxury safari
General price:
$

3230 / day
26
4 day Tanzania luxury safari
General price:
$

3230 / day
27
4 day Tanzania luxury safari
General price:
$

3230 / day
28
4 day Tanzania luxury safari
General price:
$

3230 / day
29
4 day Tanzania luxury safari
General price:
$

3230 / day
30
4 day Tanzania luxury safari
General price:
$

3230 / day
31
4 day Tanzania luxury safari
General price:
$

3230 / day
1
4 day Tanzania luxury safari
General price:
$

3230 / day
2
4 day Tanzania luxury safari
General price:
$

3230 / day
3
4 day Tanzania luxury safari
General price:
$

3230 / day
4
4 day Tanzania luxury safari
General price:
$

3230 / day
29
4 day Tanzania luxury safari
General price:
$

3230 / day
30
4 day Tanzania luxury safari
General price:
$

3230 / day
31
4 day Tanzania luxury safari
General price:
$

3230 / day
1
4 day Tanzania luxury safari
General price:
$

3230 / day
2
4 day Tanzania luxury safari
General price:
$

3230 / day
3
4 day Tanzania luxury safari
General price:
$

3230 / day
4
4 day Tanzania luxury safari
General price:
$

3230 / day
5
4 day Tanzania luxury safari
General price:
$

3230 / day
6
4 day Tanzania luxury safari
General price:
$

3230 / day
7
4 day Tanzania luxury safari
General price:
$

3230 / day
8
4 day Tanzania luxury safari
General price:
$

3230 / day
9
4 day Tanzania luxury safari
General price:
$

3230 / day
10
4 day Tanzania luxury safari
General price:
$

3230 / day
11
4 day Tanzania luxury safari
General price:
$

3230 / day
12
4 day Tanzania luxury safari
General price:
$

3230 / day
13
4 day Tanzania luxury safari
General price:
$

3230 / day
14
4 day Tanzania luxury safari
General price:
$

3230 / day
15
4 day Tanzania luxury safari
General price:
$

3230 / day
16
4 day Tanzania luxury safari
General price:
$

3230 / day
17
4 day Tanzania luxury safari
General price:
$

3230 / day
18
4 day Tanzania luxury safari
General price:
$

3230 / day
19
4 day Tanzania luxury safari
General price:
$

3230 / day
20
4 day Tanzania luxury safari
General price:
$

3230 / day
21
4 day Tanzania luxury safari
General price:
$

3230 / day
22
4 day Tanzania luxury safari
General price:
$

3230 / day
23
4 day Tanzania luxury safari
General price:
$

3230 / day
24
4 day Tanzania luxury safari
General price:
$

3230 / day
25
4 day Tanzania luxury safari
General price:
$

3230 / day
26
4 day Tanzania luxury safari
General price:
$

3230 / day
27
4 day Tanzania luxury safari
General price:
$

3230 / day
28
4 day Tanzania luxury safari
General price:
$

3230 / day
29
4 day Tanzania luxury safari
General price:
$

3230 / day
1
4 day Tanzania luxury safari
General price:
$

3230 / day
2
4 day Tanzania luxury safari
General price:
$

3230 / day
3
4 day Tanzania luxury safari
General price:
$

3230 / day
26
4 day Tanzania luxury safari
General price:
$

3230 / day
27
4 day Tanzania luxury safari
General price:
$

3230 / day
28
4 day Tanzania luxury safari
General price:
$

3230 / day
29
4 day Tanzania luxury safari
General price:
$

3230 / day
1
4 day Tanzania luxury safari
General price:
$

3230 / day
2
4 day Tanzania luxury safari
General price:
$

3230 / day
3
4 day Tanzania luxury safari
General price:
$

3230 / day
4
4 day Tanzania luxury safari
General price:
$

3230 / day
5
4 day Tanzania luxury safari
General price:
$

3230 / day
6
4 day Tanzania luxury safari
General price:
$

3230 / day
7
4 day Tanzania luxury safari
General price:
$

3230 / day
8
4 day Tanzania luxury safari
General price:
$

3230 / day
9
4 day Tanzania luxury safari
General price:
$

3230 / day
10
4 day Tanzania luxury safari
General price:
$

3230 / day
11
4 day Tanzania luxury safari
General price:
$

3230 / day
12
4 day Tanzania luxury safari
General price:
$

3230 / day
13
4 day Tanzania luxury safari
General price:
$

3230 / day
14
4 day Tanzania luxury safari
General price:
$

3230 / day
15
4 day Tanzania luxury safari
General price:
$

3230 / day
16
4 day Tanzania luxury safari
General price:
$

3230 / day
17
4 day Tanzania luxury safari
General price:
$

3230 / day
18
4 day Tanzania luxury safari
General price:
$

3230 / day
19
4 day Tanzania luxury safari
General price:
$

3230 / day
20
4 day Tanzania luxury safari
General price:
$

3230 / day
21
4 day Tanzania luxury safari
General price:
$

3230 / day
22
4 day Tanzania luxury safari
General price:
$

3230 / day
23
4 day Tanzania luxury safari
General price:
$

3230 / day
24
4 day Tanzania luxury safari
General price:
$

3230 / day
25
4 day Tanzania luxury safari
General price:
$

3230 / day
26
4 day Tanzania luxury safari
General price:
$

3230 / day
27
4 day Tanzania luxury safari
General price:
$

3230 / day
28
4 day Tanzania luxury safari
General price:
$

3230 / day
29
4 day Tanzania luxury safari
General price:
$

3230 / day
30
4 day Tanzania luxury safari
General price:
$

3230 / day
31
4 day Tanzania luxury safari
General price:
$

3230 / day
1
4 day Tanzania luxury safari
General price:
$

3230 / day
2
4 day Tanzania luxury safari
General price:
$

3230 / day
3
4 day Tanzania luxury safari
General price:
$

3230 / day
4
4 day Tanzania luxury safari
General price:
$

3230 / day
5
4 day Tanzania luxury safari
General price:
$

3230 / day
6
4 day Tanzania luxury safari
General price:
$

3230 / day
7
4 day Tanzania luxury safari
General price:
$

3230 / day
8
4 day Tanzania luxury safari
General price:
$

3230 / day
9
4 day Tanzania luxury safari
General price:
$

3230 / day
10
4 day Tanzania luxury safari
General price:
$

3230 / day
11
4 day Tanzania luxury safari
General price:
$

3230 / day
12
4 day Tanzania luxury safari
General price:
$

3230 / day
13
4 day Tanzania luxury safari
General price:
$

3230 / day
14
4 day Tanzania luxury safari
General price:
$

3230 / day
15
4 day Tanzania luxury safari
General price:
$

3230 / day
16
4 day Tanzania luxury safari
General price:
$

3230 / day
17
4 day Tanzania luxury safari
General price:
$

3230 / day
18
4 day Tanzania luxury safari
General price:
$

3230 / day
19
4 day Tanzania luxury safari
General price:
$

3230 / day
20
4 day Tanzania luxury safari
General price:
$

3230 / day
21
4 day Tanzania luxury safari
General price:
$

3230 / day
22
4 day Tanzania luxury safari
General price:
$

3230 / day
23
4 day Tanzania luxury safari
General price:
$

3230 / day
24
4 day Tanzania luxury safari
General price:
$

3230 / day
25
4 day Tanzania luxury safari
General price:
$

3230 / day
26
4 day Tanzania luxury safari
General price:
$

3230 / day
27
4 day Tanzania luxury safari
General price:
$

3230 / day
28
4 day Tanzania luxury safari
General price:
$

3230 / day
29
4 day Tanzania luxury safari
General price:
$

3230 / day
30
4 day Tanzania luxury safari
General price:
$

3230 / day
1
4 day Tanzania luxury safari
General price:
$

3230 / day
2
4 day Tanzania luxury safari
General price:
$

3230 / day
3
4 day Tanzania luxury safari
General price:
$

3230 / day
4
4 day Tanzania luxury safari
General price:
$

3230 / day
5
4 day Tanzania luxury safari
General price:
$

3230 / day
29
4 day Tanzania luxury safari
General price:
$

3230 / day
30
4 day Tanzania luxury safari
General price:
$

3230 / day
1
4 day Tanzania luxury safari
General price:
$

3230 / day
2
4 day Tanzania luxury safari
General price:
$

3230 / day
3
4 day Tanzania luxury safari
General price:
$

3230 / day
4
4 day Tanzania luxury safari
General price:
$

3230 / day
5
4 day Tanzania luxury safari
General price:
$

3230 / day
6
4 day Tanzania luxury safari
General price:
$

3230 / day
7
4 day Tanzania luxury safari
General price:
$

3230 / day
8
4 day Tanzania luxury safari
General price:
$

3230 / day
9
4 day Tanzania luxury safari
General price:
$

3230 / day
10
4 day Tanzania luxury safari
General price:
$

3230 / day
11
4 day Tanzania luxury safari
General price:
$

3230 / day
12
4 day Tanzania luxury safari
General price:
$

3230 / day
13
4 day Tanzania luxury safari
General price:
$

3230 / day
14
4 day Tanzania luxury safari
General price:
$

3230 / day
15
4 day Tanzania luxury safari
General price:
$

3230 / day
16
4 day Tanzania luxury safari
General price:
$

3230 / day
17
4 day Tanzania luxury safari
General price:
$

3230 / day
18
4 day Tanzania luxury safari
General price:
$

3230 / day
19
4 day Tanzania luxury safari
General price:
$

3230 / day
20
4 day Tanzania luxury safari
General price:
$

3230 / day
21
4 day Tanzania luxury safari
General price:
$

3230 / day
22
4 day Tanzania luxury safari
General price:
$

3230 / day
23
4 day Tanzania luxury safari
General price:
$

3230 / day
24
4 day Tanzania luxury safari
General price:
$

3230 / day
25
4 day Tanzania luxury safari
General price:
$

3230 / day
26
4 day Tanzania luxury safari
General price:
$

3230 / day
27
4 day Tanzania luxury safari
General price:
$

3230 / day
28
4 day Tanzania luxury safari
General price:
$

3230 / day
29
4 day Tanzania luxury safari
General price:
$

3230 / day
30
4 day Tanzania luxury safari
General price:
$

3230 / day
31
4 day Tanzania luxury safari
General price:
$

3230 / day
1
4 day Tanzania luxury safari
General price:
$

3230 / day
2
4 day Tanzania luxury safari
General price:
$

3230 / day
27
4 day Tanzania luxury safari
General price:
$

3230 / day
28
4 day Tanzania luxury safari
General price:
$

3230 / day
29
4 day Tanzania luxury safari
General price:
$

3230 / day
30
4 day Tanzania luxury safari
General price:
$

3230 / day
31
4 day Tanzania luxury safari
General price:
$

3230 / day
1
4 day Tanzania luxury safari
General price:
$

3230 / day
2
4 day Tanzania luxury safari
General price:
$

3230 / day
3
4 day Tanzania luxury safari
General price:
$

3230 / day
4
4 day Tanzania luxury safari
General price:
$

3230 / day
5
4 day Tanzania luxury safari
General price:
$

3230 / day
6
4 day Tanzania luxury safari
General price:
$

3230 / day
7
4 day Tanzania luxury safari
General price:
$

3230 / day
8
4 day Tanzania luxury safari
General price:
$

3230 / day
9
4 day Tanzania luxury safari
General price:
$

3230 / day
10
4 day Tanzania luxury safari
General price:
$

3230 / day
11
4 day Tanzania luxury safari
General price:
$

3230 / day
12
4 day Tanzania luxury safari
General price:
$

3230 / day
13
4 day Tanzania luxury safari
General price:
$

3230 / day
14
4 day Tanzania luxury safari
General price:
$

3230 / day
15
4 day Tanzania luxury safari
General price:
$

3230 / day
16
4 day Tanzania luxury safari
General price:
$

3230 / day
17
4 day Tanzania luxury safari
General price:
$

3230 / day
18
4 day Tanzania luxury safari
General price:
$

3230 / day
19
4 day Tanzania luxury safari
General price:
$

3230 / day
20
4 day Tanzania luxury safari
General price:
$

3230 / day
21
4 day Tanzania luxury safari
General price:
$

3230 / day
22
4 day Tanzania luxury safari
General price:
$

3230 / day
23
4 day Tanzania luxury safari
General price:
$

3230 / day
24
4 day Tanzania luxury safari
General price:
$

3230 / day
25
4 day Tanzania luxury safari
General price:
$

3230 / day
26
4 day Tanzania luxury safari
General price:
$

3230 / day
27
4 day Tanzania luxury safari
General price:
$

3230 / day
28
4 day Tanzania luxury safari
General price:
$

3230 / day
29
4 day Tanzania luxury safari
General price:
$

3230 / day
30
4 day Tanzania luxury safari
General price:
$

3230 / day
1
4 day Tanzania luxury safari
General price:
$

3230 / day
2
4 day Tanzania luxury safari
General price:
$

3230 / day
3
4 day Tanzania luxury safari
General price:
$

3230 / day
4
4 day Tanzania luxury safari
General price:
$

3230 / day
5
4 day Tanzania luxury safari
General price:
$

3230 / day
6
4 day Tanzania luxury safari
General price:
$

3230 / day
7
4 day Tanzania luxury safari
General price:
$

3230 / day
8
4 day Tanzania luxury safari
General price:
$

3230 / day
9
4 day Tanzania luxury safari
General price:
$

3230 / day
10
4 day Tanzania luxury safari
General price:
$

3230 / day
11
4 day Tanzania luxury safari
General price:
$

3230 / day
12
4 day Tanzania luxury safari
General price:
$

3230 / day
13
4 day Tanzania luxury safari
General price:
$

3230 / day
14
4 day Tanzania luxury safari
General price:
$

3230 / day
15
4 day Tanzania luxury safari
General price:
$

3230 / day
16
4 day Tanzania luxury safari
General price:
$

3230 / day
17
4 day Tanzania luxury safari
General price:
$

3230 / day
18
4 day Tanzania luxury safari
General price:
$

3230 / day
19
4 day Tanzania luxury safari
General price:
$

3230 / day
20
4 day Tanzania luxury safari
General price:
$

3230 / day
21
4 day Tanzania luxury safari
General price:
$

3230 / day
22
4 day Tanzania luxury safari
General price:
$

3230 / day
23
4 day Tanzania luxury safari
General price:
$

3230 / day
24
4 day Tanzania luxury safari
General price:
$

3230 / day
25
4 day Tanzania luxury safari
General price:
$

3230 / day
26
4 day Tanzania luxury safari
General price:
$

3230 / day
27
4 day Tanzania luxury safari
General price:
$

3230 / day
28
4 day Tanzania luxury safari
General price:
$

3230 / day
29
4 day Tanzania luxury safari
General price:
$

3230 / day
30
4 day Tanzania luxury safari
General price:
$

3230 / day
31
4 day Tanzania luxury safari
General price:
$

3230 / day
1
4 day Tanzania luxury safari
General price:
$

3230 / day
2
4 day Tanzania luxury safari
General price:
$

3230 / day
3
4 day Tanzania luxury safari
General price:
$

3230 / day
4
4 day Tanzania luxury safari
General price:
$

3230 / day
29
4 day Tanzania luxury safari
General price:
$

3230 / day
30
4 day Tanzania luxury safari
General price:
$

3230 / day
31
4 day Tanzania luxury safari
General price:
$

3230 / day
1
4 day Tanzania luxury safari
General price:
$

3230 / day
2
4 day Tanzania luxury safari
General price:
$

3230 / day
3
4 day Tanzania luxury safari
General price:
$

3230 / day
4
4 day Tanzania luxury safari
General price:
$

3230 / day
5
4 day Tanzania luxury safari
General price:
$

3230 / day
6
4 day Tanzania luxury safari
General price:
$

3230 / day
7
4 day Tanzania luxury safari
General price:
$

3230 / day
8
4 day Tanzania luxury safari
General price:
$

3230 / day
9
4 day Tanzania luxury safari
General price:
$

3230 / day
10
4 day Tanzania luxury safari
General price:
$

3230 / day
11
4 day Tanzania luxury safari
General price:
$

3230 / day
12
4 day Tanzania luxury safari
General price:
$

3230 / day
13
4 day Tanzania luxury safari
General price:
$

3230 / day
14
4 day Tanzania luxury safari
General price:
$

3230 / day
15
4 day Tanzania luxury safari
General price:
$

3230 / day
16
4 day Tanzania luxury safari
General price:
$

3230 / day
17
4 day Tanzania luxury safari
General price:
$

3230 / day
18
4 day Tanzania luxury safari
General price:
$

3230 / day
19
4 day Tanzania luxury safari
General price:
$

3230 / day
20
4 day Tanzania luxury safari
General price:
$

3230 / day
21
4 day Tanzania luxury safari
General price:
$

3230 / day
22
4 day Tanzania luxury safari
General price:
$

3230 / day
23
4 day Tanzania luxury safari
General price:
$

3230 / day
24
4 day Tanzania luxury safari
General price:
$

3230 / day
25
4 day Tanzania luxury safari
General price:
$

3230 / day
26
4 day Tanzania luxury safari
General price:
$

3230 / day
27
4 day Tanzania luxury safari
General price:
$

3230 / day
28
4 day Tanzania luxury safari
General price:
$

3230 / day
29
4 day Tanzania luxury safari
General price:
$

3230 / day
30
4 day Tanzania luxury safari
General price:
$

3230 / day
31
4 day Tanzania luxury safari
General price:
$

3230 / day
1
4 day Tanzania luxury safari
General price:
$

3230 / day